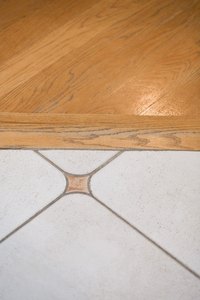 A wet saw is useful for cutting tile to size for floors, counters and backsplashes. Intricate tile patterns or installation in a small room may require the use of a wet saw due to the number of cuts and level of accuracy necessary.
Wet vs. Dry Saw
Dry saws can be used to cut a variety of tile types, but the saw and tile often overheat and the edges of the tile can become chipped during cutting. Use of a wet saw may be desirable for intricate tile patterns. Curves, bevels and other details are easier to create with a wet saw due to a lowered dust level and increased visibility.
How Wet Saws Work
Water from a reservoir pan mounted below the saw coats the blade and moistens the tile. Water flows over the tile and saw blade, cooling the entire unit and the tile itself. The tile and blade become less brittle and susceptible to chipping. All-purpose blades can cut any type of tile, and a diamond blade can be used to create the smoothest possible edges.
Preparing the Saw
A wet saw must be placed on a secure, level surface such as a saw stand, a table made from sawhorses and a piece of plywood, the floor or a counter top. The water pan needs to be filled with clean water and slid into position beneath the saw blade. When the water level decreases or the water becomes cloudy or filled with sediment, the pan must be cleaned and refilled before you continue to cut tile.
Cutting Tile
Once the water pan is in place, you can turn on the saw and allow the water to coat the blade. You can then mark each piece of tile, place the mark against the blade and carefully push the tile into the blade. A steady hand is required, but a sharp blade will slice through even heavy tile with ease.