Kitchen envy is a powerful thing. Home decor magazines, HGTV shows, social media influencers showing off their luxury mansions ... you can drool over other people's dream kitchens all day every day if you so desire. Until you get that influencer money, though, you're going to have to make your real-life kitchen work. Bring reality a little closer to your dream by adding some simple, budget-friendly upgrades to your kitchen.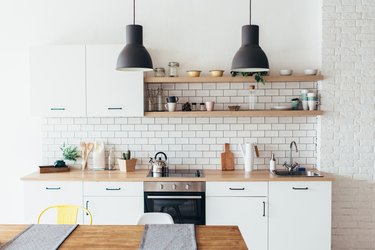 1. Paint or Stain Cabinet Doors
Considering they take up most of the wall space in a typical kitchen, kitchen cabinets are obviously an important focal point. Changing the color of your kitchen cabinet doors can immediately transform the room, making a sterile kitchen feel more vibrant and cozy or bringing a more modern look to a dated kitchen. Painting cabinetry gives you more options for colors, but staining tends to be a better option for cabinets that get a lot of wear and tear (like in homes with rambunctious young kids and/or pets). Stained cabinets generally won't show smudges and scratches as much as painted surfaces would.
Tip
Paint base cabinets and upper cabinets different, complementary colors for some contrast in your kitchen. If you paint upper kitchen cabinets a lighter color, you can create the illusion that you kitchen is bigger than it actually is.
2. Replace Knobs and Hardware
Changing drawer pulls, door knobs and cabinet hardware is an easy way to give your kitchen an immediate facelift. Because knobs and hardware are designed to be easily installed, this is one of those simple kitchen design projects that even a total DIY novice can handle. As long as you choose new hardware that fits the holes used for your existing hardware, you shouldn't need to drill into the cabinets at all.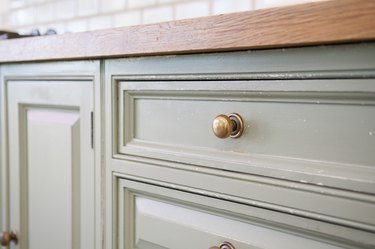 3. Use Peel-and-Stick Backsplash
Peel-and-stick backsplash is a revolutionary alternative to tile backsplash. There's no need to deal with messy grout, so it's easier to install than tile backsplash, and cleanup is so much easier too. Choose from a huge range of colors and designs to truly customize your kitchen design and coordinate your backsplash with your kitchen paint color and other interior decor choices.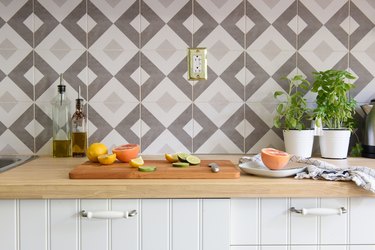 4. Illuminate Countertops With Undercabinet Lighting
Adding undercabinet lighting makes your kitchen feel brighter while also highlighting the material of your countertops and improving visibility as you're working on dinner. Homeowners can add their own undercabinet lighting using light strips that are designed to stick on or clip in place. These lights are often made with power cords that some users hide by drilling holes in their cabinets and stringing cords through. Choosing battery-operated undercabinet lights will require you to charge them occasionally, but installation is so simple.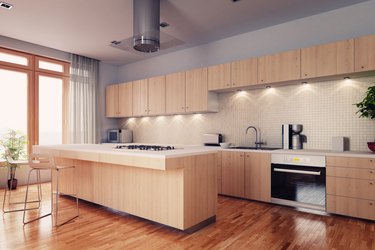 5. Try Organization Hacks
Not all organization hacks are helpful in all kitchens, so it may take some experimentation to find the tricks that help you make the most of your space. If your spice cabinet is always a mess, make a spice drawer organizer so you can find what you need at a glance. Free up some space in your cabinets by pulling out your most commonly used condiments and keeping them on the kitchen table on a DIY lazy Susan made from cake pans, marbles and just a few other items. Transform the space under the kitchen sink using about $10 of dollar-store products plus any leftover wallpaper you happen to have on hand to make this area look not only organized but pretty cute too.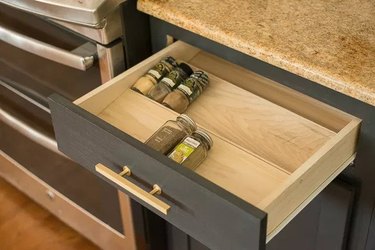 6.Hang and Display Pots and Pans
Are your pots and pans currently taking up space in a cabinet or kitchen drawer? Think about what else you could use that space for if you found a new home for all that bulky cookware. Maybe now's the time to explore other storage ideas for pots and pans, like hanging them from a slat of reclaimed wood or displaying them like wall art.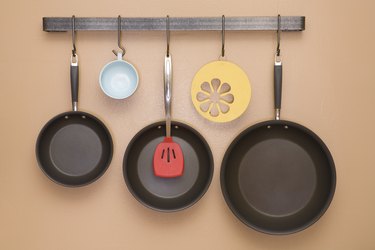 7. Update Your Old Kitchen Faucet
You might not think of your faucet as a focal point of the kitchen, but it really is, or at least it can be if it's a beautiful faucet. If you're trying to be more diligent about drinking more water and/or washing your hands more frequently, installing a faucet that you love is a good motivator to get yourself to the sink. Replacing your current faucet for a new, sleeker version is a doable DIY project for most people. If you're not sure how to choose a new faucet that will fit, take photos of your current sink to the kitchen department of a home improvement store for expert help.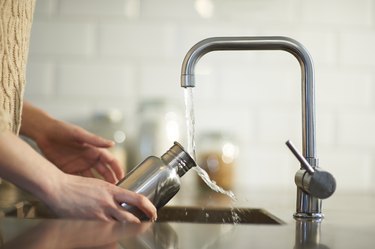 8. Add Stainless Steel Appliances
Swapping out old white or black appliances for stainless steel appliances is basically a 10-minute kitchen makeover. Buying new appliances obviously isn't the cheapest way to transform your kitchen, but it does add real value and visual impact to even a small space. If your budget doesn't allow for new appliances right now, you may want to take a chance on using adhesive appliance covers. It's basically like adding silver peel-and-stick wallpaper to your dishwasher or fridge. It's a fiddly process that might not yield perfect results, but it could be better than nothing if you can't stand to look at your old appliances for one more day.
9. Experiment With Open Shelving
Bringing in open shelving lets you create a lot more storage space without covering up your paint or wallpaper. That tends to be a useful balance in a small kitchen, where bringing in big wooden shelves for storage would only make the room feel more cramped. Use open wire or wooden shelving to store dishes, pots, pans, cookbooks and other cooking necessities.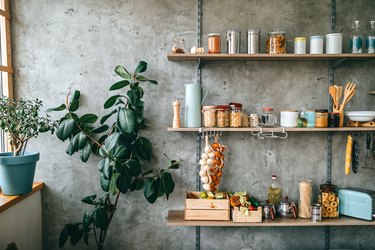 10. DIY a Kitchen Island and Add Seating
Creating a DIY kitchen island gives you additional prep and storage space on a scale that's appropriate for your kitchen. Scour yard sales and antique stores for a sturdy wooden cart, cabinet, desk or other piece that's about the same height as your countertops. For a small space, you might use a few slim bookshelves from somewhere like Ikea, placed back to back and secured together. Add a countertop that slightly extends around the base piece using a piece of reclaimed wood or a custom-cut slab from a home improvement store. For safety, the counter has to be securely attached to the base with both sealant and screws; consult a builder if you need help. Pick out a few stools or seats that fold so they can be tucked away (or even hung on the wall) when you don't need seating.