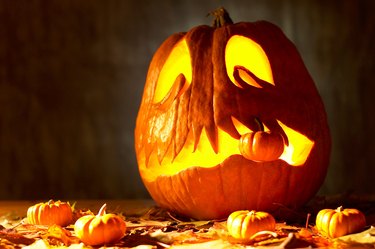 Putting on a creative skit can be an entertaining way to celebrate the coming of Halloween. Decide what kind of skit you want to create, whether it's informational, goofy or scary, and then write a script accordingly. Consider building famous Halloween songs into the skit for a musical tribute to the fall holiday.
Reenact a Classic
There are plenty of existing sources of Halloween entertainment, so reenact a scene from a classic. For instance, you could go with a spooky written work, like "Frankenstein," "Dracula" or "The Legend of Sleepy Hollow," to give your audience the chills. Gross them out with a slasher film reenactment; choose a climactic scene and reenact the drama for your guests. You could also look to classic Halloween cartoons, like "It's the Great Pumpkin, Charlie Brown," for more kid-friendly sources of skit material.
Musical Inspiration
Get your audience moving and grooving to the spooky sounds of Halloween by featuring a musical number, like Michael Jackson's "Thriller" or "Monster Mash" by Bobby Pickett, in your short skit performance. Incorporate choreographed dances to go along with your chosen Halloween music; use original dance numbers or existing choreography from music videos or classic spooky musicals, like "The Rocky Horror Picture Show," so you have more time to practice your moves.
Informational Skit
Halloween is a holiday steeped in historical traditions, so consider incorporating interesting facts into your script to inform your audience of the celebration's origins. Put on a skit that demonstrates the different ways Halloween is celebrated around the world, incorporating elements from a variety of cultures like Mexico's Day of the Dead traditions. For an informative skit, balance out the factual aspects with other elements like humor to keep your audience engaged in the performance.
Original Skit
An original skit is a challenge for a budding playwright. Decide what kind of skit you want to create, whether it's based in humor, adventure, mystery or terror. You could base your skit around typical Halloween traditions like trick-or-treating, pumpkin carving or dressing up for a costume party. For a humorous skit, you could feature silly scenarios in which the main character's Halloween night goes outlandishly awry or you could give the skit a spooky twist by terrorizing the characters with a monster or ghost.