Things You'll Need
Scissors

Pattern for letters

Selected fabrics (100% cotton)

Paper-backed fusible webbing, such as Wonder Under

Iron

Ironing Board

Pencil

T-shirt or sweatshirt (100% cotton)

Sewing machine

Thread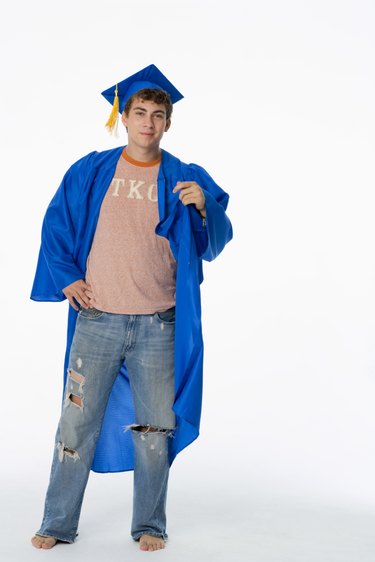 Any plain shirt can be made special with the addition of sewn-on letters. Sewn letters are everywhere -- as a monogram on infant onesies, as a name or team name to promote team spirit or as Greek letters on fraternity and sorority apparel. You can pay top dollar for someone else to make shirts for you, or you can gather a few simple supplies and produce them yourself if you have a sewing machine.
Prepare the Fabric
Step 1
Cut a piece of fabric a little larger than needed for your letter pattern.
Step 2
Cut a piece of paper-backed fusible webbing to be 1/8 inch smaller than the fabric piece.
Step 3
Place the fabric face down on the ironing board.
Step 4
Place the fusible webbing on top of the fabric, paper side facing you.
Step 5
Iron the fusible webbing to the fabric according to the manufacturer's instructions.
Transfer the Pattern
Step 1
Cut out the letter patterns.
Step 2
Place the letters on the paper backing of the fabric. Place them so they will appear backwards on the paper. When you flip them to iron them on, they will be facing the right direction.
Step 3
Trace the letters onto the paper backing then cut them out.
Iron the Letters
Step 1
Peel the paper backing off the letters.
Step 2
Place the shirt on the ironing board and arrange the letters as desired.
Step 3
Iron the letters onto the shirt according to the instructions included with the fusible webbing.
Sewing the Letters
Step 1
Set sewing machine to a zig-zag stitch. The length and width of the stitch should be chosen based on your own preference. Use a scrap piece of fabric to determine the look you would like.
Step 2
Zig-zag stitch around each letter. Secure the beginning and ending stitches by backing up and repeating over those stitches.
Step 3
Trim excess threads and enjoy your letter shirt.
Tip
Use glow in the dark thread for a fun idea. You really don't have to sew once the letters have been ironed on, but it does add a nice look. Layer two layers of fabric for a classic fraternity/sorority shirt look. Shirts that are 50/50 cotton polyester blends work, but 100 percent cotton shirts are sturdy enough to hold the extra layers of fabric plus stitching.
Warning
Use only 100 percent cotton fabrics. Synthetic fabrics will melt when ironed. Use safety precautions when using iron, sewing machine and scissors. Don't forget to flip the letter patterns, or else the finished result will be backwards.