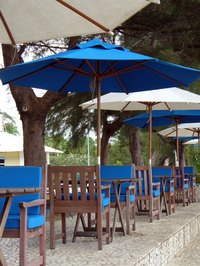 Sunbrella is a canvas fabric used in many household and commercial products. Indoor and outdoor items commonly made with Sunbrella fabric include furniture upholstery, awnings, boat covers, outdoor curtains, outdoor furniture and Sunbrella patio cushions. While this material is exceptionally durable, tears and rips can occasionally happen. If tears or rips do occur, there is no need to buy a new Sunbrella item; you can repair your Sunbrella fabric yourself.
Things You'll Need
Sunbrella fabric
3/8-inch double-sided basting tape
Heavy-duty matching thread
Measuring tape or ruler
Heavy-duty fabric scissors
Hot knife (optional)
Sewing machine
Cut a patch from Sunbrella fabric that measures up to 2 inches around the edges of the rip.
Place double-sided tape around the four edges of the patch. Use the double-sided tape to baste a 1/2-inch hem around the patch. Do this by placing the double-sided tape around the four edges of the patch; remove the paper backing from the tape, and fold down exactly 1/2 inch.
Place double-sided tape on two opposite sides before you begin sewing to ensure that the patch stays put.
Lay the fabric flat, ensuring there are no wrinkles. Locate the hole in the fabric and attach the patch by laying the side with the two strips of double-sided tape face down onto the fabric. To make the repair more attractive, it might be a good idea to line up the edges of the patch along an edge or seam. Double-sided tape is easily removable, so if the patch isn't properly placed, simply remove the piece and replace it correctly.
Feed the length of the fabric carefully under the sewing machine arm until you find the rip.
Lower the needle and the balance wheel by hand and begin sewing several 6mm straight stitches starting at one corner. Reverse and backstitch to secure the patch in place and then continue sewing along the side of the patch. When you reach the corner, lift your foot and pivot with the needle down in the fabric. Next, lower the needle and continue to sew a 6mm straight stitch in this manner, around (down the length of all) all four sides of the patch.