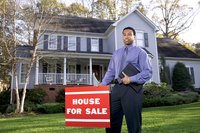 GE Supra is a brand of lock boxes made by General Electric Security to store keys. The stored keys make it easy for people like real estate agents and contractors to get access to the key of a home without the need to meet with someone. For those with little experience removing a GE Supra lock box, it can be difficult to remove. Luckily, with the right directions you will be able to remove the GE Supra in no time.
Input the number combination on the lock box. Press the four digit code on the box.
Pull down the "Open" tab to remove the lid.
Remove the keys from inside the lock box.
Pull the handle inside the lock box to the side to unlock it. The lock will pop open and you can now remove the lock box.