Things You'll Need
Project pattern

Fleece

Straight pins

Scissors

Fabric glue

Binder clips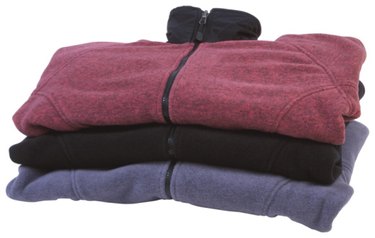 Fleece is a thick, warm fabric featuring dozens of different designs, patterns and colors. You can make just about anything from fleece, ranging from sweaters and coats to pajamas, pillows and blankets. You can combine different designs to create fast and simple quilts or weave scraps together for eclectic pillowcases. One of the best things about fleece is that you only need basic sewing skills to use it. Though its thick nap makes it harder to fuse than thinner fabrics, once glued it stays forever without pulling or tearing.
Step 1
Smooth your project pattern out onto your fleece and pin the paper to the fleece with straight pins.
Step 2
Cut around the pattern pieces with very sharp scissors, cutting slowly. Since fleece doesn't fray, slow cuts will create nice, smooth edges that join together easily.
Step 3
Remove the paper pattern from the fleece pieces. Join the pattern pieces together and secure them with straight pins. Do the same for each part of your project, assembling the small pieces first.
Step 4
Remove one pin and open the fleece seam. Squeeze in a small bead of fabric glue and replace the pin with a binder clip. Do the same along the seams for all of your fleece pieces.
Step 5
Allow the glue to dry for 24 hours. Remove the binder clips and gently tug on the fleece. If any of the seams separate, glue them back together and secure them with binder clips once again. The glue must have time to soak into the thick fabric in order to form a strong bond.