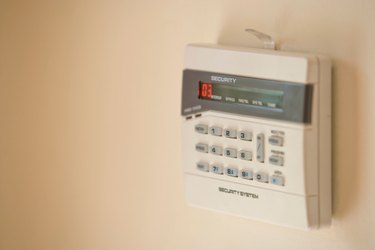 CPI Security, a home alarm system company based in Charlotte, North Carolina, installs a range of DSC, General Electric and CPI-brand security systems in customers' homes. Changing an alarm code involves entering the existing master code for the system, entering a new master code or selecting a user code to change and confirming that change. You can change your master code or one of the many user codes if you suspect the code is known outside your circle of trust.
Step 1
Find the instruction manual for your CPI alarm system at the company's website. See the Resources section for the link. The instructions provide additional details particular to your system.
Step 2
Enter "9" or "*5," depending on the system. Enter the system's master code using the numbered buttons on the front of the control panel.
Step 3
Choose to change the master code or one of the user codes assigned to family members. Selecting this option requires you to enter a number, for example, "40" or "0320."
Step 4
Enter a new four-digit master code or user code and press the "#" button. The system accepts the new code and returns to "Ready" mode.