Things You'll Need
Furnace humidifier filter

Pleat spacers (if necessary)

Access to power supply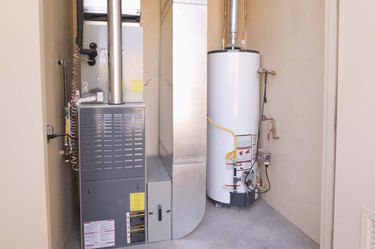 Humidifier furnaces offer the benefit of heating an entire home while reducing the humidity level in the air throughout the home. Humidifier furnaces also provide cleaner air in the home, as the air from all the rooms is drawn into the humidifier, forced through a filter system and then returned to the home in a cleaner state. The filter on a humidifier furnace should be cleaned on a regular basis to provide the cleanest possible air and to ensure proper functioning of the furnace unit. New filters can be purchased at most appliance, hardware or home repair stores.
Step 1
Turn off the furnace humidifier and unplug it from the local power supply.
Step 2
Open the front access door on the furnace and pull the old filter out.
Step 3
Slide the new filter into place.
Step 4
Examine the pleat spacers if your furnace humidifier uses pleat spacers with the filter. If the pleats are damaged, replace those as well when replacing the filter. New pleat spacers can be purchased at many hardware or home repair stores.
Step 5
Turn the furnace humidifier back on and reconnect to the power supply.