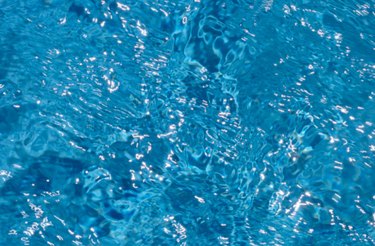 Intex is a company that makes extremely durable aboveground pools constructed of a three-ply PVC material. Of all the sizes that Intex produces, they offer only two options that are 8 feet long. When taking care of the pool, it is vital to know how much water it contains. Instructions for adding chemicals depend on how many gallons of water are in the pool for proper balance and application.
8-by-27
The 8-foot-by-27-inch pool was released by Intex many years ago, and is no longer available for purchase from their site or from any authorized retailers.
8-by-30
The 8-foot-by-30-inch Easy Set pool is the smallest Easy Set pool that Intex produces. It is a step up from a wading pool, and will require chemicals and a filter to stay clean. Often, the filters come with the pools as a package. This Intex pool will run from $60 to $100 dollars on Amazon as of June 2011, with different patterns available -- such as the clear-view or the ocean reef. The pool comes with a 530 GPH pump that is more than sufficient for this size. This pool is very easy to set up. Just close the drain plug, inflate the ring and fill.
Filling
When filling these Easy Set pools, Intex recommends only filling to 80-percent capacity. This is to just below where the inflatable ring meets the walls of the pool. Filling the pool further could place undue stress on the walls and seams, causing them eventually to leak. It is crucial that these pools are on a flat, level surface while filled with water. If, when filling, water runs more to one side than the other, drain the pool and find a more level place to install it. Lopsided pools are unsafe due to the increased pressure on one side of the pool. The extra weight of the water could cause the wall to bow outward, causing damage to the pool, the property, or you or your family.
Depth
The older 8-foot-by-27-inch pools at 80 percent capacity would be 20 inches deep and hold 523 gallons of water. The older 8-foot-by-30-inch filled to 80-percent capacity would be 23 inches deep and hold 568 gallons of water. The only 8-foot pool currently available from Intex, model number 56971EG, is the newer 8-foot-by-30-inch. When filled correctly, this pool is 23 inches deep and will hold 639 gallons of water. The best thing about Easy Set pools, however, is they do not have to be filled to capacity. As long as the outlet value is underwater, the pump will function properly. This is excellent for smaller children who may be playing in the pool.