Things You'll Need
Carpet cleaner

Rags

Vacuum cleaner

Miniblinds

Carpet runner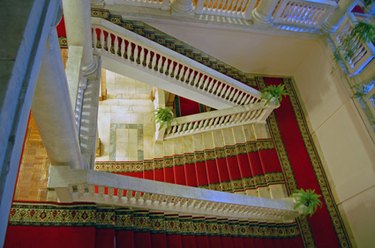 Since stairs are a high traffic area in any home, expect to witness stains, dents and spills on a regular basis. Whether it's your family member's or pet's dirty footprints, dents from moving furniture up and down the stairs, or liquid spills, accidents are bound to happen to carpeted stairs. Learning the proper and most efficient way to protect the carpet on your stairs is essential if you want your carpeted stairs to stay as clean and fashionable as possible.
Step 1
Clean all liquid spills promptly to prevent the liquid from soaking into and staining your carpeted stairs. Use a proven brand of carpet cleaner and a rag to clean and remove liquid spills.
Step 2
Vacuum the stairs regularly to remove dirt and debris. According to the Colorado State University Extension, vacuuming frequently is recommended as particles of dry soil work down into the carpet and can scratch the fibers, leading to premature wear of the carpet.
Step 3
Keep direct sunlight off your carpeted stairs by placing miniblinds on your windows. Direct sunlight can cause carpet to fade and become cheap looking.
Step 4
Purchase a carpet runner and place it on your stairs. Carpet runners, like Carpet Saver, help protect your carpeted stairs. Carpet runners are absorbent, cling to carpets, and are easy to clean. You can purchase carpet runners at home improvement stores.
Step 5
Get your carpeted stairs cleaned professionally on a yearly basis. The Colorado State University Extension recommends cleaning your carpet every 12 to 18 months.
Tip
Enforce a shoes-off policy while indoors. Place a "please take off your shoes" sign on your front door to broadcast your desire to protect the carpet on your stairs.
Warning
Be sure to clean the carpet runner on a regular basis, as odor may result if left uncleaned for long periods of time.