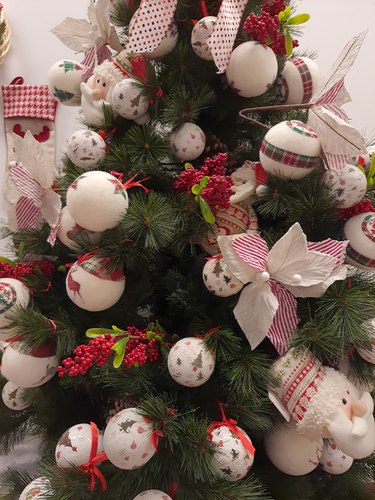 With its attractive blue-green foliage and strong branches, the noble fir is a beautiful tree that has long been a popular choice for a Christmas tree.
Like any Christmas tree, you should think of a noble fir as a blank canvas and the focal point of your Christmas decor. From lights to ornaments to toppers, the options for decorating a noble fir are limited only by your imagination.
Things You'll Need
Tree stand

String of lights

Ornaments

Tinsel (optional)

Tree skirt

Tree topper
The noble fir is the largest of all the fir trees that are native to North America, as it is capable of growing to a tree height of 200 feet. It occurs naturally in the Pacific Northwest of the United States, extending into Canada. This tree grows in an attractive pyramidal shape. The upward-turned needles of the noble fir are bluish-green and feature white markings that appear silver. The pretty branches of this tree are also used to make garlands and wreaths.
The noble fir is prized because it keeps for a long time. However, it can be harder to find and also tends to be more expensive than other types of Christmas trees like the Douglas fir, Fraser fir or blue spruce tree. In the wild, the stiff branches of the noble fir support large, heavy pine cones, which means this tree can also handle weighty Christmas ornaments.
How to decorate a noble fir
1. Set up the Christmas tree
Decide where in your home you want the Christmas tree. The living room is usually an ideal location where the family can enjoy the tree and decorations. Secure the tree in a tree stand before starting to add the Christmas tree decorations.
Tip
Keep in mind you will need to be able to easily access the tree to add water each day. You may be able to find a noble fir artificial Christmas tree if you don't want the added work of a real Christmas tree. You may even be able to find a pre-strung or pre-lit artificial Christmas tree rather than one that is unlit.
2. Hang Christmas tree lights
The first step in decorating any Christmas tree is hanging the lights. Depending on the look you desire, you may want to use clear lights, warm white LED lights or multicolored lights. One hundred lights per foot of the tree's height is a good starting point. For example, for a 7-foot-tall noble fir tree, you'll want 700 lights. However, you can add more lights or fewer depending on the intensity you want to achieve.
While lights are usually wrapped horizontally around a Christmas tree, consider hanging them vertically for an unexpected effect.
Tip
For safety reasons, use strings of lights that are the appropriate length rather than connecting more than two strings of lights together.
2. Hang ornaments on the noble fir Christmas tree
When choosing ornaments for a noble fir, think about the aesthetic you're seeking for your holiday decor. For a sophisticated look, consider going monochromatic with various shades of a single color. Silver ornaments, for example, will allow the noble fir's stunning blue-green color to shine.
You can also stick to a limited color palette that combines two or three colors. While red and green are a classic Christmas pairing, if you want to go bold, choose two colors that are opposites on the color wheel, such as purple and yellow or orange and blue.
A theme, whether it's an homage to a beloved movie or something like sports or animals, is another fun, whimsical approach to decorating a noble fir tree.
Tip
If there are children in your home, having them create their own DIY ornaments out of felt or other material adds a personal touch that you cannot replicate with store-bought ornaments.
3. Add additional noble fir decorations
In addition to lights and ornaments, you can also decorate your noble fir Christmas tree with garlands and ribbons. Complete the look by tossing on some shiny tinsel.
4. Wrap a tree skirt around the tree
Wrap the base of the tree with a fabric tree skirt that matches your color story or theme. You can also make a DIY tree collar if it works with your decor.
5. Add a Christmas tree topper
Every Christmas tree, whether it's a noble fir or another kind, needs a topper. A star is a traditional choice, and you will find many different styles of stars from which to choose. Angels are another popular Christmas tree topper. Even a large, fancy ribbon can also do the trick.
The noble fir is a beautiful Christmas tree, offering endless decorating options. Select lights and ornaments that suit your Christmas home decor and aesthetic. Keep it simple and elegant with white lights and ornaments in limited colors or make it more fun and personal by adding multicolored lights and homemade ornaments.