Things You'll Need
Straight pins

Sewing needle

Sewing thread

Sewing machine (Serger optional)

Tapestry needle

Embroidery thread

Steel crochet hook

Crochet thread

Binding tape

Lace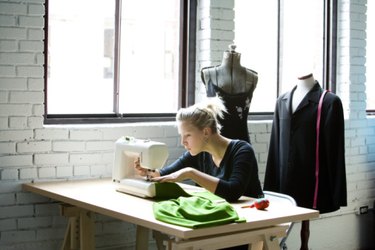 Swedish, or Huck, weaving uses a special fabric for stitching. Once you have finished weaving the afghan, you have one or two steps left. The four edges of the afghan need to be finished so they don't fray, ruining the hard work you have completed. Depending on the look you want, you can simply hand-stitch or machine-stitch a hem on the afghan, or you can create a fringe, sew on a lacy edging, bind the edge or crochet an edging to the afghan.
Step 1
Pin, then hem all four sides, using either a sewing needle and sewing thread or a sewing machine with thread. Turn the edge over two times and stitch the hem.
Step 2
Serge the edges. Carefully serge a straight line, catching the edges with the machine needle and thread.
Step 3
Sew a zig zag hem close to each edge, then create a fringe, carefully pulling out the cross threads up to the stitched line. Trim the fringed edge straight.
Step 4
Machine-hem each edge, then embroider a blanket stitch, using embroidery thread. Choose a thread that either matches, complements or contrasts with the thread you used to weave the afghan.
Step 5
Crochet a single crochet edging around all four edges of the afghan. Hem the afghan using a sewing machine, then, using a steel crochet hook, push the hook through the fabric immediately above the hem. Choose a crochet thread in a color that complements, matches or coordinates with the color of the embroidery thread in the afghan.
Step 6
Machine-hem the afghan, then sew on binding tape around each edge.
Step 7
Sew a zig zag hem around all four sides of the afghan, then sew on a lace edging.