Things You'll Need
Measuring tape

Scissors

Fabric

Sewing machine

Velcro

Hot glue and glue gun

Upholstery pins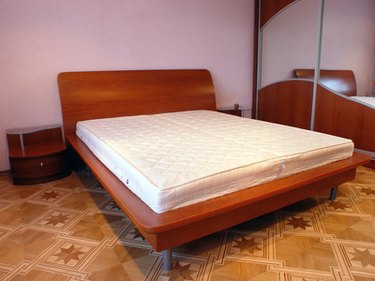 Nothing finishes off the look of a bed more than adding a bedskirt around the mattress. It hides the metal frame and conceals anything you might have hidden under the bed. Most bedskirts have fabric at the edges with a solid white panel in the center that fits between the mattress and the box springs. If you have a bed without a box spring, there are still ways to create a bedskirt.
Step 1
Measure the distance from the mattress to the floor and cut fabric to size, adding 3 inches for hems.
Step 2
Hem both edges of fabric, folding in the raw edge before you sew.
Step 3
Attach one side of Velcro to the bed frame, using the sticky side of the Velcro. Attach the other side to one hem of the bedskirt, sewing in place if it won't stick to your fabric.
Step 4
Create gathers by overlapping layers of fabric together with hot glue, as you string the fabric along the side of the bed, or use upholstery pins to keep several layers together.
Tip
You can use a ready-made bedskirt by carefully cutting the middle part of the fabric away from the colorful border.