Things You'll Need
Felt piece, 9-by-12 inches

Hot glue gun and glue stick

12 inches of lace trim, 1 inch wide

Bobby pins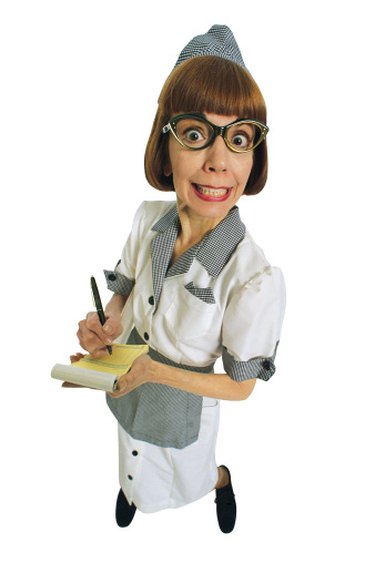 Classic waitress uniforms include a perky little hat sitting upright on top of the head. The hat is a parallelogram shape that curves from the front of the head around both sides in the same manner as a tiara. It is secured by bobby pins at each side. You can reproduce the hat from a piece of felt as part of a costume for a Halloween trick-or-treating excursion or dress-up party. You do not have to sew it; glue it instead. In fact, older children can make the hat themselves.
Step 1
Fold a piece of colored felt that is 9-by-12 inches in thirds along the longest side. You will end up with a folded piece that measures 12-by-3 inches.
Step 2
Tack the felt closed by placing a dab of hot glue inside each corner of the top flap.
Step 3
Turn the folded felt over and place it horizontally so you only see folded edges on top and bottom.
Step 4
Draw a bead of glue along the bottom edge and press lace trim along this edge. The straight edge of the lace trim will be on the bottom. The scalloped edge of the lace will point upward.
Step 5
Turn the hat over so the lace is still on the bottom but facing the table. Fold the top left corner down to meet the bottom of the hat, forming a triangular flap on the top left side. Turn down the top right corner to make an identical triangular flap on the top right side. Tack the flaps down with hot glue.
Step 6
Curve the hat with the lace trim on the outside. Set it on top of the wearer's head and pin it with bobby pins at the back corners.
Tip
You can find many colors of felt in craft stores.
Use a longer piece of felt for an adult version of this hat. For example, a hat made from a piece of felt that is 9-by-15 inches is 3 inches longer than the children's version.
For a full waitress uniform costume, make an apron and collar to match color of the hat with the same lace trim. Carry a tray to complete the look.