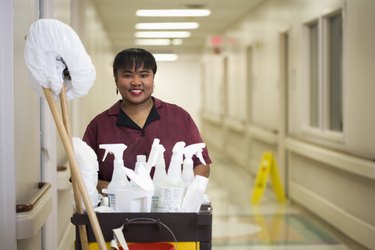 Quick costumes for a last-minute party invite or Halloween trick-or-treat expedition can be more than a Casper the Friendly Ghost white sheet with eye holes and a grocery sack or plastic pumpkin for the goodies. You can dress up your toddler in a custodian costume with a push toy transformed into a janitor's pushcart or transform yourself into a hard-working janitor. A peek in the closet is likely to provide most of the necessary items for a successful Halloween costume.
While some janitors are still allowed to wear jeans, many companies now require a uniform and identification badge. If you're dressing up yourself as a janitor, blue coveralls or dark blue work pants, a long- or short-sleeved matching shirt and a white or light blue T-shirt provide the basics of a janitor outfit.
If you're dressing up your toddler, blue jeans, cotton pants or sweatpants and a matching button-up or T-shirt layered over a warm, long-sleeved white or gray T-shirt set the scene for his janitor costume. Add sneakers or work boots with two layers of socks for comfortable walking during your door-to-door excursion on Halloween night.
Janitor Costume Accessories
Once you have the basic outfit, add additional elements to ensure a recognizable janitor costume. These days, custodians have name badges and key cards. Add a plastic name badge holder on a lanyard with your picture and "janitor" or "custodian" title printed in bold letters on card stock.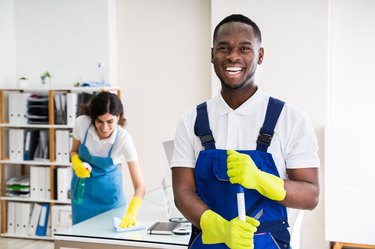 Put on a tool belt and add bright yellow dishwashing gloves, a spray bottle, a few rags and other tools of a custodian's trade. Carry a push broom over your shoulder and if you're really in character, sweep the steps at each house.
Transform your toddler's push toy, like a toy shopping cart, into a janitor's cart. Line the inside with a black trash bag and add an inexpensive hanging storage basket on each side to hold (empty) spray bottles, scrub brushes, sponges, dishwashing gloves and a few rags. Add a plastic pumpkin to the inside of the cart for collecting the candy on the trick-or-treating odyssey.
In addition to your clothing and accessories, have a little fun with makeup. A big mustache attached with spirit gum adds some of that old-school ambience to the costume. Alternatively, if time is short, the adhesive bothers your skin or you're adding a mustache to a child's face, draw it on with an eyebrow pencil.
Rub a little moisturizer over your face first to help smooth the pencil lines and to help remove the makeup afterward. Draw the mustache hairs at an angle outward from the center of your lips just under your nose to the far end of the fake mustache or in a series of nearly vertical lines slightly slanting outward. At the end of the evening, a little eye makeup remover or cold cream on a cotton ball takes the eyebrow pencil off. Then, wash your face to remove any remaining tint.
Recognizable janitorial characters include Ismael Cruz from Rob Zombie's "Halloween" movie and Scruffy from the animated TV series "Futurama." Dress in a classic blue uniform with a long-sleeved white T-shirt and add a drooping black mustache to portray Ismael Cruz. Brown boots, a tool belt and a cap combined with a bushy white mustache add the details that make Scruffy a memorable custodian from the future.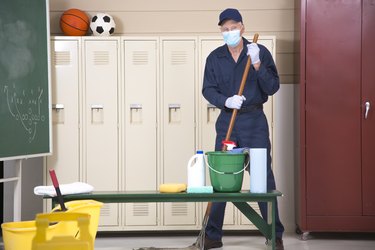 Alternatively, the Oompa Loompas of the "Charlie and the Chocolate Factory" movie provide an easily recognizable and fun janitor costume. White sweatpants, a brown turtleneck and crisscrossed white suspenders with big brown buttons provide a warm outfit for a chilly Halloween evening. Add brown and white striped socks, a green wig, stick-on white eyebrows and a dusting of warm and ruddy bronzer over your face and anyone familiar with the movie will know exactly whom you or your child is portraying. A broom and dustpan make it clear what your Oompa Loompa's job is at the chocolate factory.