Things You'll Need
Dark colored pinstripe suit

Dress shirt

Dark colored tie

Black shoes

Black costume makeup or fake mustache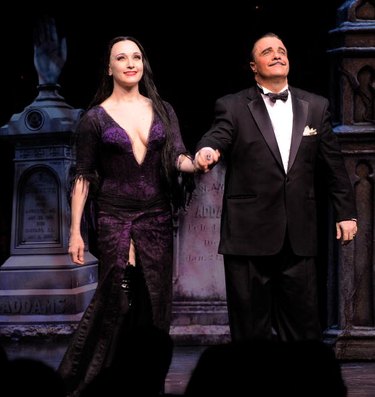 Gomez Addams, the patriarch from "The Addams Family," is a character that revels in the macabre, making him a popular costume for Halloween and other special occasions. Gomez and the rest of the Addams clan were created by cartoonist Charles Addams for the New Yorker magazine in 1935 and have since been adapted for television shows, cartoons, movies and a Broadway musical. Although many versions of Gomez Addams exist, each version has been adapted from the original Charles Addams cartoons, which portrayed Gomez as a mustachioed man with a taste for dark dress clothing.
Step 1
Purchase a dark colored suit with pinstripes from a thrift store or resale shop if you do not own one. If you cannot find an affordable suit with pinstripes, buy a cheap suit and add pinstripes yourself using a fabric pencil and straight edge.
Step 2
Wear a dress shirt and tie in colors that keep with the dark color scheme. Pair a white dress shirt with a black bow tie, a dark red shirt with a black necktie or a black shirt with a dark red tie for a Gothic look befitting the Addams name.
Step 3
Shine a pair of your best black dress shoes and wear matching black dress socks.
Step 4
Draw a mustache on your face using a black makeup pencil. For a more authentic look, stick a costume mustache on your face using spirit gum or, if possible, grow the real thing.
Step 5
Add optional accessories, such as a fake cigar or a prop hand to represent Thing, Gomez's pet.