Things You'll Need
Silk dance fan or martial arts practice fan

Foam board

Measuring tape or ruler

Scissors

Silk fabric

Straight pins

Glue

Paintbrush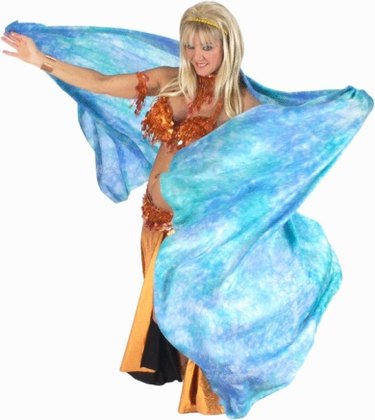 Fan veils are used as props in belly dancing. The art of using fan veils is difficult to master, but it can provide an effect considered beautiful when done properly. Using quality products, especially quality glue, is important in making your own high-quality, durable fan veils. Keep jewelry and sharp items out of the way when learning to use fan veils. It is easier to learn with shorter veils and work your way up to longer veils.
Step 1
Open one silk dance fan or martial arts practice fan completely. Lay the fan on the edge of foam board. Cut the board 1 inch wider than the base of the fan. Cut a hole in the board that matches the interior ring of the fan.
Step 2
Cut silk fabric the same width as the foam board. Pin the silk to the foam board securely at all four corners. Leave the silk as long as you want the veil's length.
Step 3
Apply glue to the staves of the fan with a paintbrush. Turn the fan glue-side down, and position it on the edge of the fabric, aligning the hole you cut with the fan's interior ring. Allow the glue to dry.
Step 4
Detach the edges of the original fan silk from the outer staves of the fan. Glue the new silk fabric onto the outer staves in place of the original. Glue the original silk to the new silk to secure it in place. Allow the glue to dry completely.
Step 5
Cut a hole in the new silk around the inside center of the fan to expose the staves.
Tip
It is not necessary to hem the silk.
Open the fan completely before gluing it to the silk. If the silk is not cut wide enough, it will tear from the stress of the open staves.
Any glue that will hold tightly and dry clearly works well for making fan veils.
The length of the veil can be cut when the fan is complete. Leave the silk longer than you plan your veil to be, and cut it to the desired length when the other steps are complete.
Silk dance fans are for sale from several suppliers online in classified advertisements. Martial arts practice fans are available at most martial arts stores and online.
Some fans are designed to make a popping sound when opened that adds to the effect of the dance.