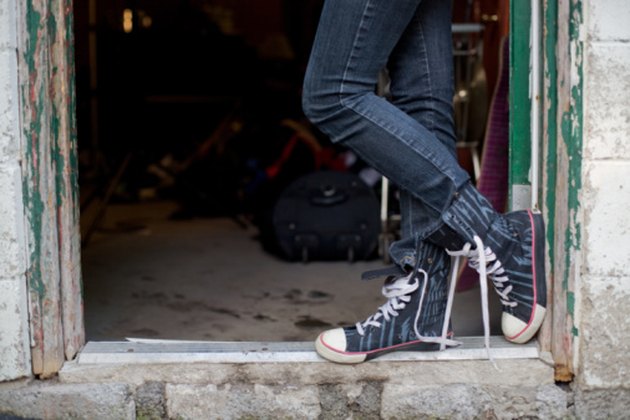 Converse shoes or Chuck Taylors, as they are sometimes referred to, were made famous back in the late 70s, an era that beckoned the new wave generation. Today, Chucks are still trendy, especially among teenagers and young adults. Those who have run their shoes into the ground may find that their Chucks no longer have the same clean and sporty appeal that they once had brand new. Bring Converse shoes back to new in a few straightforward steps.
Things You'll Need
Basin

Baking soda

Dish detergent

Bleach

Tough-bristled toothbrush

Liquid chalk-type shoe agent

Sponge
Step 1
Remove the shoelaces from your Converse sneakers. Place white shoelaces in a basin filled with lukewarm water,1 tbsp. of bleach and 1 tbsp. of a commercial laundry detergent. Place colored shoe laces in a basin filled with lukewarm water and 1 tbsp. of laundry detergent.
Step 2
Swish the mixture together by hand and let the laces soak for 10 minutes, allowing for dirt to lift and surface. Air dry shoelaces.
Step 3
Sprinkle 2/3 cup baking soda into a small bucket and fill half way with warm water. Pour a dime-size amount of dishwasher detergent into the bucket and stir mixture with the end of the toothbrush.
Step 4
Dip the toothbrush's bristles into the bucket. Scrub the front area, or white toe patch vigorously until dirt and scuff marks are removed. Scrub around the protective toe guard that borders the base of the shoe, removing any dirt smudges stuck inside its patterned marks.
Step 5
Insert each shoe inside a washing machine set on low cycle. Add in 1/2 cup laundry detergent before beginning wash cycle. Refrain from using a bleaching agent so you won't stain the Converse's pattern. Set the wash cycle to cold rinse.
Step 6
Lay the shoes out to air dry in an area away from excessive heat.
Step 7
Smear a dime-size amount of a liquid chalk-type shoe agent to whiten the shoe's toe patch. Follow the complete instructions of the agent for best results. Clean by wiping the toe patch down with a wet sponge dabbed in mild soap detergent.
Step 8
Lace your Converse shoes as they were originally tied when bought. Straighten the laces to prevent twisting and looseness. Adjust the tongue inside the shoe so that it is centered under both rows of eyelets.
Tip
Choose laces that adequately fit the shoe's eyelet feature. Shoes with seven pairs of eyelets should have 45-inch laces, eight pairs of eyelets should have 54-inch laces, and nine pairs of eyelets should have 63-inch laces.