Things You'll Need
Embroidery thread

Embroidery needle

Buttons with large holes

Quilt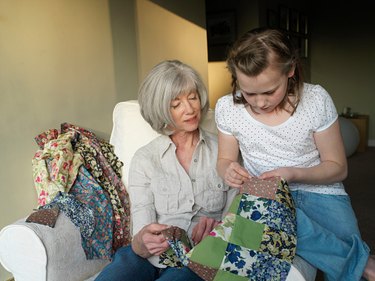 Tying a quilt is a way to finish a quilt by hand. Since many quilters cannot fit a large quilt into a standard sewing machine and because paying someone to machine-quilt can be expensive, tying a quilt is a fast and inexpensive option for finishing a quilt. Change your standard quilt tying method by adding buttons to the quilt top - this will add the security of tied quilting but also adds a decorative flair to your finished quilt.
Step 1
Thread two to three pieces of embroidery floss onto an embroidery needle. Each piece of floss should be approximately 12 inches long.
Step 2
Tie a double knot in the embroidery floss, 3 inches in from one end. Make sure your knot ties all of the lengths of floss together.
Step 3
Poke the needle up from the bottom of the quilt, through the backing, batting and quilt top. Pull on the needle until the knot stops at the back of the quilt.
Step 4
Stitch a button onto the top of the quilt using your embroidery floss. Go through the button holes the same way you would sew a button onto a shirt; stop when you have 3 to 4 inches of thread left, ending with the thread coming from the back side of the quilt. This last several inches are the "finishing end" of the floss.
Step 5
Tie the finishing end of the embroidery floss to the beginning tail. Use a square knot to secure the ends together. Trim the embroidery floss if desired or leave it as it is.
Step 6
Repeat steps 1 through 5 throughout the body of the quilt. Space your buttons at the corners of your quilt squares or wherever else you would like to position them.
Warning
Due to choking hazards, this quilt tied with buttons would not be suitable for infants or very young children.