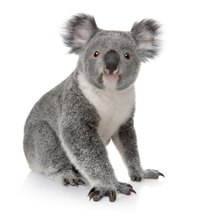 Attract an audience that befits one of the most admired animals in Australia while wearing your adorable koala costume. You can create an easy koala costume for children or adults with a few craft supplies and a gray sweatsuit. This costume is perfect for school stage performances and any costume party. The koala costume can also be easily adapted for a baby if you substitute a jumper for the sweatsuit.
Things You'll Need
Cardstock
Gray foam board
White foam board
Pencil
Scissors
Mask form
Hot glue
Glue sticks
Gray acrylic paint
Paint brush
Gray sweatshirt
1/2 yard white felt
Fabric glue
White embroidery floss
Needle
Koala Mask
Draw a large circle that measures 3 inches across onto a piece of cardstock. Cut the circle out. This is the basic ear pattern.
Cut one side of the circle pattern off so that the circle has one flat edge. The flat edge is the bottom portion of the ear.
Outline the koala ear pattern twice onto the gray foam board.
Cut the koala ears out of the foam board. Use a straight cut on the flat edge of the ears. Use jagged cuts along the top of the Koala ears to form hair. Use as many or as few jagged cuts as you'd like.
Cut two circles half the size of the gray ears out of the white foam board.
Glue the circles to the center of the gray ears to create the center ear contrast.
Paint the mask form gray. Use at least two coats of paint. Allow the paint to dry.
Hot glue an ear to the underside of the mask along each side. Let the glue dry.
Koala Shirt
Cut a large circle from a piece of felt. Make sure that the circle is large enough to cover the front of the shirt. It should be situated about 4 inches beneath the neckline and 4 inches above the hemline.
Glue the felt fabric to the front of the shirt. Follow the glue directions for drying times.
Use a blanket stitch to stitch the edges of the felt to the shirt with embroidery floss.