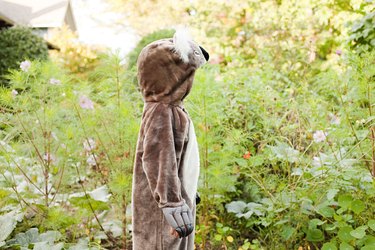 A DIY koala costume could be the talk of a Halloween party, and with enough determination, you can make a really great one. Though they are often called "bears," koalas are actually marsupials rather than bears. They are covered in light gray fur, and they have a large black patch on their nose, a white belly and large, round ears. They do not have tails, so you won't need to worry about making one of those.
You can make a no-sew DIY koala costume from a gray hooded sweatshirt and sweatpants; gray, pink, black and white felt; scissors; and a downloadable template for a koala face, which you can find online. You can easily trace the face onto the felt and then carefully cut it out. DIY koala ears can be made from felt as well. Make the middle of the ears out of pink felt and use a hot glue gun to attach it to each ear.
Once these pieces are cut out, glue the ears, nose, mouth and eyes onto the hood of the sweatshirt. It can be worn over your head with your human face peeking out. Cut out white felt for the belly and glue that onto the front of the shirt. Koalas have brown paws with claws, so you can get a pair of brown gloves and glue on brown-painted nails if you like.
What if you don't have felt on hand? You can glue a fuzzy white washcloth to the front of the shirt and make gray pompom ears out of yarn. The ears could then be attached to the sides of the sweatshirt hood.
More DIY Koala Costume Ideas
You can also make a koala mask using a mask form that you buy at a Halloween or craft store. Spray paint it light gray and let it dry. Then, make DIY koala ears out of gray foam board. Draw a 3-inch circle on a piece of cardboard, cut it out and then trace it twice onto the foam. Make smaller circles from gray foam. Cut them out and glue them in the center of the ears.
The ears can be glued onto the sides of the mask form. Once they dry, you can paint on the face with black paint. Then, glue white fabric to the front of a gray fuzzy sweatshirt and wear gray sweatpants and white socks. Wear brown shoes if you have them and wear brown gloves on your hands.
DIY Koala Costume for Kids
To make a baby-size or kid-size DIY koala costume, look for a fuzzy gray onesie or sweatsuit with or without a hood. You can follow some of the same directions, like gluing on a white fabric belly.
If you cannot find a hooded gray onesie, get a matching gray hat and glue the ears onto the sides. Another idea is to make a mama/daddy koala bear and have a baby one (real or stuffed animal) on your back. Young koalas like to wrap their arms around a parent's neck.