Things You'll Need
Hanging light fixture

Clear fishing line

Crystal beads

Hot glue gun

Wire drop earring hooks

Small pliers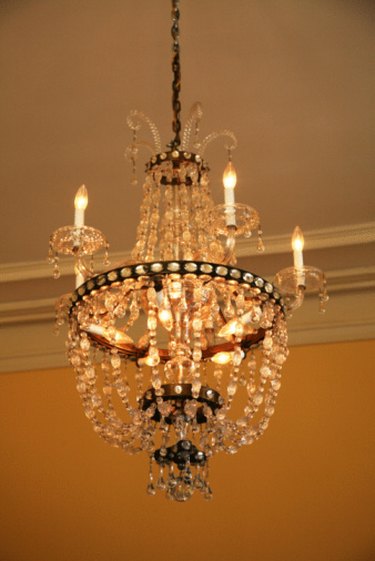 A stunning crystal chandelier is an elegant way to add some sparkle to your wedding reception décor – but store-bought crystal chandeliers can cost a pretty penny. Using a simple light fixture and items found at a craft store, you can create your own custom crystal chandelier that will add shine to your big day, without breaking the bank.
Step 1
Browse through home decorating magazines or online images of crystal chandeliers, to get an idea of the type of chandelier you would like to create.
Step 2
Purchase a used or inexpensive chandelier, or a light fixture that fits your wedding theme. Consider thrift stores, vintage stores, or major retailers such as Home Depot or Lowes to find hanging light fixtures on the cheap.
Step 3
Using clear fishing line, string small crystal beads together, to create long strands of crystal. Drape these strands over sections of light fixture, so they hang loosely and affix in place with hot glue or secure with additional fishing line.
Step 4
Use earring hooks to hang and attach large crystals to beaded strings or directly to light fixture. Cinch the ends of the wires with pliers to secure.