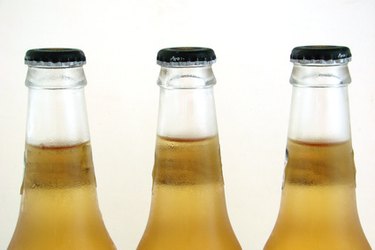 Back in the day, BYOB stood for "bring your own beer," but in modern times, it often stands for "bring your own booze." It still includes beer, of course, but the term also includes wine, vodka, whiskey or whatever else partygoers prefer. BYOB restaurants can cost less if you're dining out because they usually charge a lot for alcohol. Party hosts save money, and invitees bring what they like, so it is a win-win situation. The only question is: How should the invitations be worded?
A BYOB Invitation for Guests
It is not necessary to write out "bring your own booze" since "BYOB" is a universal acronym that most people understand. Try mentioning that an event is BYOB in the beginning of the invitation so that everyone will see it right away. Sometimes, people do not read invitations all the way to the end. You'll also want to choose some BYOB invitation introductory paragraphs that are polite and welcoming.
One example is: "Please join us at our BYOB party to celebrate (name's) birthday on (date, time) at (location). We hope you can attend!" Another suggestion is: "Save the date for our BYOB Italian night! We will provide plenty of pasta and salad, and you can bring your favorite libations." Another option is: "We are planning a BYOB party on (date) for (occasion). Please join in on the celebration!"
Bring Your Own Booze Wedding
Weddings can be incredibly expensive, and one of the biggest costs is alcohol. The markups on drinks can be very high. You can save thousands of dollars by having a BYOB wedding, but you do not want to offend your guests. If you are having a fancy, upscale wedding at an expensive venue, many people will not understand why you want to make it a BYOB event. Besides that, the venue may not even permit it due to licensing issues. Some venues will allow families to bring their own alcohol, which would involve purchasing cases of bottles to be served.
You can also search for venues that allow BYOB. Some may not make this information public on the internet, but calling and asking to speak to an event coordinator should get you the answers to your questions quickly.
Wording a BYOB Wedding Invitation
Including the BYOB part on a wedding invitation can be tricky because some people may think it is tacky. If you must do it, there are two ways to make it work. The first is to email the attendees after they RSVP. This can be short and sweet, such as: "Thank you for your RSVP. We are so happy that you are joining us! Due to budget constraints, this is a BYOB event. Thanks for your understanding."
The other choice is to put it on the invitation's RSVP card and on the lower right corner of the invitation. Write something like "This is a BYOB event." Think about this carefully, though, because it is likely that guests will get the wrong impression. The safer option is to choose a venue that allows you to bring in your own alcohol and then buy the alcohol yourself. It won't be as inexpensive as asking guests to bring their own, but it will be cheaper than buying it from the venue.