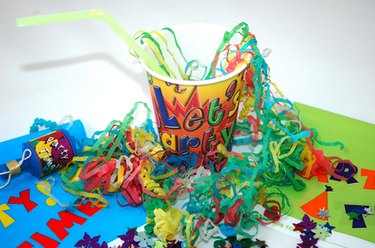 Some people hate the thought of turning 60 years old. They don't want anyone to remember their age or their birthday, which can make it hard to throw a party for them. A 60th birthday should be a cause for celebration; turning 60 is actually a big milestone. Surprise her with a party that focuses on her childhood memories. Keep the party checklist you create for the next time someone you know is turning the big 6-0.
Invitations
Never forget the invitations, which are an important part of a birthday party. Create your own invitations by hand or by computer. Microsoft Word has some great greeting card templates that you can use. Insert phrases such as "Over the Hill!" or "Sexy Sixty!" Pick a phrase that will best represent the person's interests and your birthday party theme. Make sure to add details such as the party's location, the date, and RSVP details.
Party Theme
Stick with the theme of the birthday party. Using the "Over the Hill" theme is easy to do since most party shops typically carry those decorations. Creating a 1950s or '60s theme is also easy to do. Decorate the area with inflatable guitars, records, and a jukebox. Take a trip down memory lane to the decade they grew up in. Pick music from that era. Most importantly, pick a theme that fits the person's personality.
Gift Ideas
Be creative and give her 5 dozen roses or 60 lottery tickets. If you want to give a personal gift, create a scrapbook. Fill it with photos, keepsakes, and memorable sayings. Get family and friends in on the act by having them submit memorable photos or by typing and printing out their birthday wishes. You can also create a slide show with the photos. It makes the best personal gift, and everyone can view the memories during the party.
Party Food
It's easy to carry on the 60th birthday party them with food. Have 60 cupcakes on a tiered party tray. You can also be traditional and use candles in the shape of the number "60" on a birthday cake. Make sure to include sugar-free snacks and drinks, and keep guests with other dietary restrictions in mind. Have the food area set up as a buffet. It's a great way for guests to mingle and choose what they want to eat.
Game Ideas
One perfect game to play is a trivia game that asks question from the 1950s and 1960s, or another era in time. Trivial Pursuit has several games geared to these eras. You can even find old game show clips on the Internet and have everybody play against each other. Some other great ideas include a hula hoop contest or a karaoke contest with '50s songs.