CPI Security Systems has a reputation for providing its North Carolina and South Carolina customers with excellent security systems and a well-trained group of employees. They offer a variety of coverage plans based on your security needs, but it might cost more than you would like to pay on a monthly basis. After all, it would be preferable to purchase the comprehensive plan that consists of window and door motion sensors installed on both the exterior and interior of your home or business, but it might not be in your budget. One remedy would be to purchase a basic plan that covers the main entrances to the house, and then add your own wireless sensors to the existing CPI alarm security system. The installation can be a quick and simple process that doesn't have to cost a lot of money.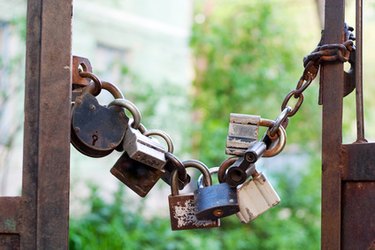 Things You'll Need
Wireless Receiver

Mounting Tools

Wireless Sensors
Step 1
Determine how many wireless motion detectors and door/window sensors you would like to install along your outdoor and indoor perimeters. It is best to have each window and entrance covered in order to maximize your protection. Wireless sensors can be mounted with screws, magnets or sticky glue.
Step 2
Purchase the necessary wireless motion detectors and door/window sensors from a security and spy shop. In fact, purchase a kit that has them if possible. Also, purchase a wireless receiver to connect to the hardwired alarm system control panels, which will add both wired and wireless capabilities to the existing framework.
Step 3
Mount the wireless receiver next to the commercial alarm system control panel. The instructions that came with the wireless receiver will explain how to connect it to the control panel.
Step 4
Import the wireless transmitter ID for each wireless motion detector and door/window sensor to the wireless receiver before installing them around the house. By this time the receiver should be functioning properly and can give you the battery and performance status of each wireless sensor.
Step 5
Mount each wireless sensor and motion detector, then document the position of each device and label them by the control pad and receiver. This will help you know the exact location of each device in case a battery is running low or if movement was detected in a certain location.
Step 6
Conduct a test run on each wireless system to ensure the receiver is able to combine the wired and wireless security systems, acting as one complete alarm security system.