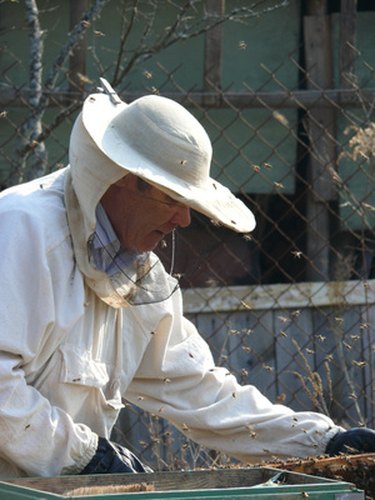 You can create do-it-yourself, easy-to-make costumes for adults quickly at home before heading at the last minute to a Halloween or costume party. Costume basics often can be found in your own closet, and accessories require little more than a trip to your local arts and crafts supply store. All of these do-it-yourself costumes for adults can be paired up to make a couples costume as well.
Beekeeper
Step 1
Wear a white T-shirt with khaki pants and a khaki vest. This will be the base for your safari guide outfit.
Step 2
Add a straw hat with string necktie and glasses. These will be your safari guide accessories.
Step 3
A pair of binoculars and animals (whether they are real or stuffed) add to the safari guide likeness.
Nerd
Step 1
Wear a white buttoned up dress shirt with nice pants (the pants should be a few inches too short) and suspenders. Be sure to button the shirt all the way up. If you do not have these clothing items already, they can be purchased inexpensively at your local Goodwill or second-hand store.
Step 2
Add accessories such as black-rimmed glasses and a pocket protector. A faux pocket protector can be made easily by taping two pieces of black paper together and placing it in your shirt pocket along with a few pens. Party Ideas Parade suggests putting a piece of tape on the middle of your black-rimmed glasses to look even nerdier.
Step 3
Wear a pair of white socks pulled all the way up and put on some black loafers to complete the outfit.
Step 4
Wear your hair "Alfalfa" style for men or in two ponytails for women to finish the look.
Beekeeper
Step 1
Wear a pair of white painter's coveralls with sturdy boots.
Step 2
Add a white, wide-brimmed hat with a layer of tulle attached with staples.
Step 3
Hot-glue tiny bees (found at a craft supply store) all over the costume for an added effect.