Things You'll Need
Blue robe

Embroidered pattern

Black shoes

Knee-length socks

Black belt

Scissors

Felt fabric

Sewing kit or glue

Black paint

Paint brush

String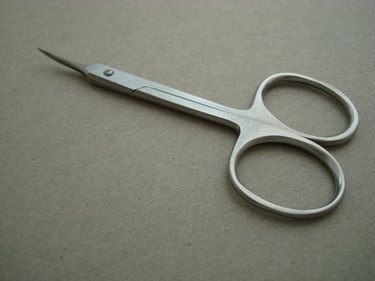 Katara is a character from the movie, the Last Airbender. Children love to emulate their favorite movie star heroes which make the Katara costume a popular one. You can make your own Katara costume without spending a lot of money or time. All you need are a few simple materials. The homemade costume will give your child a fun costume to wear at Halloween or costume parties.
Step 1
Go to your thrift shop or Halloween and costume shop to look for a light blue robe that fits your child.
Step 2
Sew, glue or tape an embroidered pattern onto the sleeves of the robe. The pattern should appear about halfway up the arm for each sleeve. Also attach the embroidered pattern around the neckline of the costume.
Step 3
Put the robe on the child and tie it firmly, but not too tightly. Wrap a large black leather or felt belt around the child's midriff. Connect or tie it around the child's back.
Step 4
Pull on knee-length socks and make sure they go up as high as they can. Put simple black shoes on the child's feet.
Step 5
Find a piece of string and paint it black if necessary. Cut a circle out of a felt fabric and cut a small hole to insert the string through. Make sure the string is long enough to accommodate the child's neck. Tie the string in the back to create the Katara necklace.