Things You'll Need
Tape measure

Aluminum rod

Clear fishing line

Tacks

Latex or helium balloons

Helium or air tank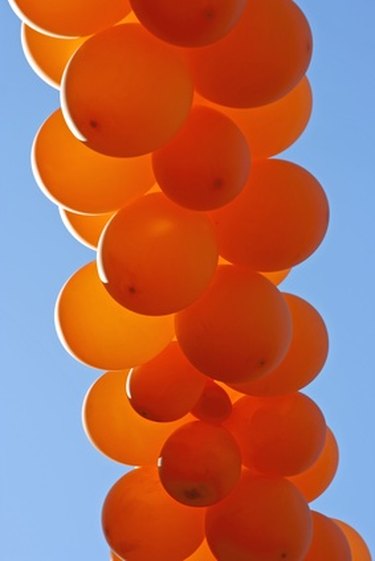 Balloon arches create a distinctive background for any event, especially for photo opportunities. You can create arches using helium or air-filled balloons that are strategically placed to form different shapes. You may combine Mylar and latex balloons to add dimension to your arch. A star balloon arch is a unique form that requires planning and attention to detail. Using your imagination and some basic products, you can create a star balloon arch of any size.
Step 1
Figure the desired length of each of the five points of the star with 10 sides total, from bend to bend. Add the sum of each of the sides for the total length of your star in feet.
Step 2
Determine the size and number of balloons necessary per foot of arch. If you choose 11-inch balloons, six balloons are required per foot. If you choose 14- or 16-inch balloons, four balloons are required per foot. If necessary, round your measurements to the nearest foot.
Step 3
Construct your star arch frame by bending the aluminum rod into a star shape. Connect your star to the ceiling with clear fishing line and tacks. Tie the bottom of the arch to a base on the floor, possibly a bucket or other anchor.
Step 4
Construct balloon clusters. Air balloons up with an air or helium tank, depending on the type of balloons you purchased. Twist two different colored balloons together. Take another set of two balloons and twist them together with the first two. Twist the cluster onto the aluminum rod. This locks the cluster onto the rod. Continue this process, sliding the balloons as close to each other as possible.
Tip
Arch strips are available as a pattern to which you attach the balloons.
Inflate balloons to the same size by constructing a template. Cut a hole in the side of a box the same diameter as the size of balloon you use. Inflate each balloon to that same size.