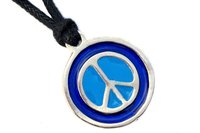 The 1960s were an iconic, unmistakable era of revolution in fashion, music and societal norms. In many instances, the counter-culture became the mainstream culture and the hippie movement became a major force. Fashion changed as men grew their hair long, clothing became more colorful, and accessories such as beads and flowers became staples. Celebrating this era does not have to be expensive or complicated. Most costume elements can be homemade or bought secondhand for very low prices.
Things You'll Need
Straight-legged pants
Fabric
T-shirt
Tie-dye or Kool-Aid
Rubber bands
Vest or scarf
Headband
Beads
Feathers
Fake Flowers
Yarn
String
Scissors
Make bell-bottomed pants from a pair of straight-legged pants. Open the outer leg seam of the pants to the knee. Flatten the leg and spread the bottom until the desired size of bell is formed. Place a piece of extra fabric underneath and sew it in place. If the colors are conservative, tie-dye the material. Cheap dye can be made from bright colors of Kool-Aid dissolved in just three cups of water.
Find a loose-fitting T-shirt to wear. If the shirt is used and stained or if the color doesn't match, tie-dye it to hide the imperfections.
Add large accessories, such as a fringe vest, bright scarf or beaded belt.
Make a headband from beads, feathers and fake flowers. Wear your hair long and straight or in an afro, or wear a wig or make one from yarn. Beads and feathers can be strung onto hair or tied into wigs also.
Create a peace sign necklace by cutting out a peace sign shape from cardboard or by creating one from beads and string.