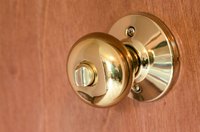 Doorknobs and their locks have evolved a great deal over the centuries. From iron cast bolts with gargantuan keys to intricate modern mechanisms with complex interiors and reprogrammable locks. Many doorknob locks of all kinds still exist today, but the same principles still govern their operation. When a doorknob lock breaks, it is usually because the interior parts need to be cleaned and lubricated. This is not a difficult task, but requires some basic home repair tools and patience in dismantling and reassembling the lock mechanism.
Things You'll Need
Phillips screwdriver
All-purpose spray lubricant
Remove the handles of a passage lock with a screwdriver. The handles of a passage lock, a typical doorknob lock on an interior door that does not include a deadbolt, are usually held in place by connecting screws or a spring catch. Remove the faceplate and latchbolt shaft, the solid metal arm that extends through the faceplate into the doorframe, by loosening the retaining screws. Spray all parts with an all-purpose lubricant. Wipe away any excess lubricant with a clean rag and reassemble the parts.
Loosen the connecting screws of a security doorknob lock, a lock usually found on exterior doors that contains a deadbolt. The connecting screws typically secure the inner and outer cylinders. Loosen the retaining screws on the faceplate to remove the latchbolt shaft. Spray an all-purpose lubricant on all the parts and clean off any excess with a clean rag. Reassemble the security lock.
Unscrew the handle setscrew on an older passage lock. Loosening this screw will allow you to remove the door handles and attached spindle. The spindle is the mechanism by which the latchbolt moves back and forth into the strike plate on the doorframe. Unscrew the faceplate screw and pry the lockset from the door. Take off the lock cover, or faceplate, and spray all the parts with a lubricant. Remove any excess lubricant with a clean rag and reassemble the lockset. If the handle repeatedly falls off the spindle after reassembly, rotate it to a different position on the spindle. Retighten the setscrew after repositioning the handle.