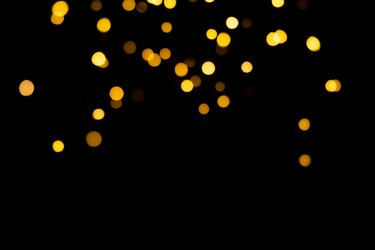 If you're accustomed to hanging Christmas lights on traditional shingle roofs but made the switch to a metal roof this year, you may be at a loss on how to hang Christmas lights on gutters without using nails or tacks. As it turns out, hanging lights on metal roofs, with or without gutters, is a fairly straightforward task. Many of these approaches can be used with shingle roofs, resulting in fewer holes and damage to your eaves and gutters. The three main methods are magnetic clips, plastic clips and magnetic lights.
Christmas Light Clips for Metal Roofs
Use clips for hanging Christmas lights on gutters when possible. Whether you use metal or plastic clips, you can secure lights to your eaves or gutters without damage and with minimal personal risk. . If you choose the kind with spring-loaded jaws, you can use them on gutters or shingles with equal ease. A cheaper option is the single-piece hooks that remain in place through friction and leverage on a gutter's edge.
A budget option is to use binder clips, which are widely available in office supply stores, won't damage your roof or gutters and will reliably remain in place through inclement weather. These can get rusty if left outdoors across multiple seasons, and buying the larger binder clips in bulk can end up being more expensive than purchasing a large pack of plastic clips or hooks. Still, they remain a viable alternative to consider.
Magnetic Lights and Hooks
Metal roofs are generally ferrous, and therefore capable of supporting magnets. If you aren't sure whether your roof is steel or aluminum, you can use a simple fridge magnet to test compatibility before purchasing special magnetic clips or hooks.
Magnetic plastic light clips come in various sizes to accommodate different wire gauges. They boast a quick and easy setup and removal process without damaging your roof or gutters and are infinitely reusable. Magnets further allow you to easily adjust the placement of your lights. Suppose you're planning to display heavier items such as finials or more oversized light-up ornaments. In that case, look into heavy-duty magnetic hooks. These are widely available at hardware stores and have a pull strength of around 12 pounds, though different models and brands have their limits.
You can, of course, completely change up your light selection by replacing your old string lights with magnetic string lights. These are more expensive and specialized but have the benefit of not requiring any other setup. Unpack these magnetic Christmas lights, place and rearrange them as you like along your metal eaves or gutters and plug them in.
Safety Concerns for Hanging Lights
As with any other work you do at your roofline, be sure to exercise caution when hanging or removing Christmas lights. Use the buddy system, having one person hold the ladder and hand up tools or lights, instead of one person going up and down repeatedly.
This also means that if you fall or injure yourself, someone is immediately present who knows what's happened and can get help. Don't go up on any roof pitched at 30 degrees or more. Also, work your way down from the peak of your roof when hanging lights higher on your roofline.