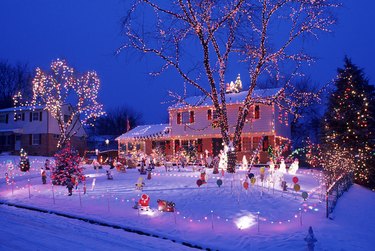 If you have ever damaged your roof while hanging holiday lights, you might want to use Christmas light shingle clips this year. These clips are what professionals use to get the job done and can save you a lot of time, money and headaches. Roof light clips will keep your light lines aligned, and the bulbs will look perfectly straight on your shingles and gutters.
What Are Shingle Light Clips?
Standard fasteners, like screws, staples and nails, can puncture holes in shingles and other parts of your roof. Tiny holes in shingles can cause leaks, and holes in your fascia board can cause it to rot. Instead, you can use clips to hang Christmas lights on your roof, and you can use as many as you need without worrying about making holes or causing other damage.
Made from plastic, shingle Christmas light clips hold empty socket light lines and light strands as well as specialty light strings (icicle lights, for example). Specialty light strings come in various shapes and sizes and are hung on roof line perimeters. The kind of shingle light clips you choose will depend on the style of roof you have, and you can choose ones made from clear plastic to make them more unobtrusive.
How to Attach Christmas Lights to a Roof
Simple shingle light clips attach to the edge of your gutters, and you snap them on at equal intervals. These intervals do not need to be exact since the bulbs are likely spaced equally apart on the line. You can snap the string right into the hooks. If you have rope lights and need to orient the bulbs or are using icicle lights, hook the line of the lights for a tighter hold.
For the most precise alignment, choose clips that hold onto the bulbs. With these, all bulbs will be pointing in the same way, but make sure that the clip sizes can accommodate your bulbs. You also have to decide whether you want the bulbs to point up or down. Remember that you may not be able to remove the light unless you unscrew the bulb. You can also hook these clips onto gutters or the roof's drip edge.
Other Types of Shingle Christmas Light Clips
You can also look for versatile clips designed to hold any Christmas light, from 5 millimeter to C9 retrofit bulbs. Some of these will let you overlap the end wings to create smaller socket fits for smaller bulbs. Some clips can also support two strands of lights instead of just one. If you want to save time, shop for clips that do not require you to install the bulbs after the strands are attached.
There are a number of critical safety tips that you should keep in mind when hanging your Christmas lights. If you use a ladder, inspect it first and have someone hold it securely while you are climbing and walking back down. Your spotter should also stay nearby when you are on the roof.
Always wear closed-toe shoes for this sort of work and do not wear loose clothing or large belt buckles. Do not hang lights when it is raining, snowing or icy and do not overload electrical sockets. Keep extension cords away from places that might be a tripping hazard.