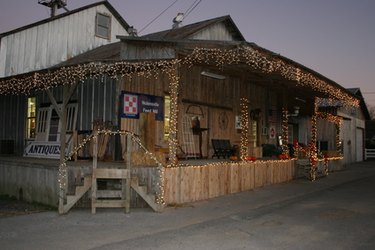 Every time you walk across the roof, you cause damage to your shingles. More damage is done if you attach Christmas lights to the shingles with nails or screws, because they leave holes in the roof that can lead to leaks. If you love decorating the outside of your house for Christmas, it's important that you find a nondamaging way to hang Christmas lights. By using special clips, you can safely hang your Christmas lights. Clips are available at home improvement centers or in the Christmas section in most department stores, and they accommodate lights of all sizes.
Step 1
Test the lights for burned-out bulbs before you hang them. Also check the wires to make sure no areas are worn or damaged. Neglecting this precaution could result in your house catching fire.
Step 2
Remove each bulb if you are hanging C7 or C9 bulb lights. Place the socket toward the bottom of the clip, and then screw in the bulb. The plastic shingle tab is between the bulb and the base. If you are stringing mini lights, hook the wires of the Christmas lights on the small hook at the end.
Step 3
Connect the strands of lights needed to go from section to section.
Step 4
Carry your ladder to the section you want to decorate first. Stabilize the ladder so it won't slip when you climb up.
Step 5
Coil the strands of lights together, and hang them over your shoulder so you can climb the ladder safely, using both hands. Climb to the first area to be decorated.
Step 6
Push the clips under the bottom section of the last row of shingles. The clips should fit snugly under the shingles. You don't want them to slip or move around, because they won't stay up on the roof. If you have a clip that is loose, fold the end tabs down and back toward the light without breaking the tabs off. When you have the lights done in one section, climb down the ladder and move it to the next section.
Step 7
Remove the Christmas lights at the end of the season. Just pull out the clips and lights together from the shingles, and store them for next year.
Tip
Make sure that you don't overload the circuit breakers. Having too many things plugged in could result in a fire. Use only outdoor lights when decorating outside. If you're hanging C7 or C9 lights, use a clip for each light on the strand for an even appearance.