Things You'll Need
Red or orange jumper

Red or orange tights

Red or orange felt

Fabric glue

Sewing kit

Yellow satin

Metallic multicolored fabric

Metallic gold fabric

Black and white felt

Glitter (optional)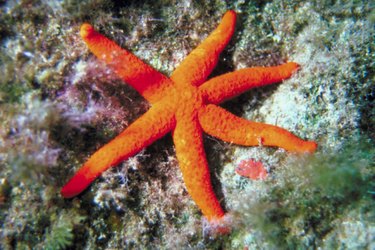 Halloween gives children the opportunity to dress up and adults the opportunity to show off their creative skill. While you can buy a costume, a cheaper and fun option is to make your own. That way your child will have his own distinct costume that everyone else will admire.
Step 1
Draw a starfish shape on a large piece of paper. Place this drawing over the orange felt and cut out the shape. Repeat so that you have two starfish shapes. If you cut out a starfish with five corners, two of the points should be at the arms, two at the legs and one at the head.
Step 2
Sew the two shapes together, so that the matching sides meet. Glue the inside arms of the starfish costume to the inside arms of the jumper and the rest of the fabric to the back of the tights and front and back of the jumper. The jumper should be on the inside of the starfish suit. Leave the bottom of the starfish costume unsealed so the child can slip inside.
Step 3
Cut out scallop shapes into the yellow satin and metallic multicolored fabric. Apply glue to the back of the scallop shapes and attach them to the back of the tights.
Step 4
Cut out some more scallop shapes and glue them to the front of the starfish suit.
Step 5
Make some eyes by cutting out two circles with the black and white felt. The white circles should be approximately 2 inches, and the black circles 1 inch. Glue the black and white circles together, with the black in the center of the white. Then glue them to the top of the starfish.
Step 6
Cut out an oval shape at the front of the head of the starfish. This is where your child's head will go.
Step 7
Decorate accordingly. You can use glitter, but don't go overboard or it will detract from the design as a whole.