Things You'll Need
2 to 3 large pieces of cardboard or foam board

Paint or markers

Decorations

Satin or shiny material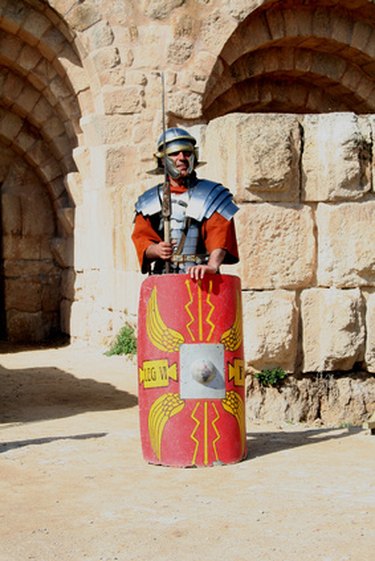 With a few basic materials, you can transform yourself or your little goblin into a ninja, spartan, Celtic or princess warrior. You can create your own warrior costume easily, inexpensively and with lots of personal flair. Add some attitude and go forth as a warrior that everyone will fear.
Basic Warrior
Step 1
Make an armor vest using two large pieces of cardboard or foam board. Trace two chest-sized ovals on the boxes. Cut out the traced pieces. Secure the two chest boards at the shoulders and sides with string or twine. Decorate with paint, colored markers or glue beads.
Step 2
Cut out a rectangle of red or other brightly colored satin material for a cape. Attach the cape at the shoulders to drape down your back.
Step 3
Cut out a piece of the board in the shape of a diamond, shield or "W" to make a head dress. Decorate the piece to match the vest and attach to a ski hat with tape or glue.
Step 4
For a sword, trace the shape on remaining cardboard and cut it out. Spray-paint it with silver and black paint or cover it with aluminum foil.
Step 5
Cut out a round piece from the boards, or use a round plastic garbage cover to make a shield. Cut two holes in the middle of the circle and construct a handle for the underside using duct tape. Spray-paint the shield.
Step 6
Wear black pants, a black shirt and black boots underneath your costume.
Princess Warrior
Step 1
Modify the basic costume by adding frills for princess warriors. Instead of black pants and shirt, wear a showy skirt and top under the vest. Use glitter, beads and fake fur for decorating the handmade items.
Step 2
Wear a leather or ribbon headband. Glue on beads or dangle costume jewelry from the headband.
Step 3
Wear glitzy shoes with a metallic silver or gold shine. High leather boots or lace-ups add sex-appeal for the older costume wearers.
Tip
If you've added fake fur to your outfit, consider attaching some to the tops of your boots for a uniform look.