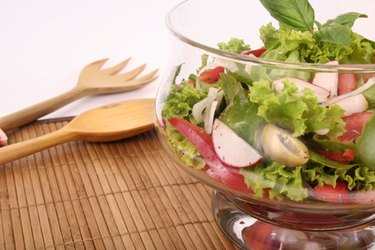 The salad is an essential part of most fine meals, acting as a complement to the main dish. It is not uncommon to find a salad of leafy greens or other light vegetables alongside meat dishes, breads and soups. Although fine etiquette once dictated that the salad be served after the main course and before the dessert, this rule has been less stringently followed in modern times. Choose the route that works best for your meal and for your guests, and allow for flexibility to make sure everyone has a good time.
Step 1
Prepare your salad in a large serving bowl. Choose a bowl that matches the ambiance and mood of your meal. A wooden salad bowl is popular with some people, but porcelain is an equally acceptable option. Make sure your salad is properly tossed before putting it on the table so any seasonings are well distributed through the greens.
Step 2
Place an individual salad bowl next to every guest's main dinner plate. In less formal settings, such as a family meal, the main course will often share the plate with the salad. This is entirely acceptable if it fits the environment you want for your meal.
Step 3
Serve the salad after the main course and before dessert. This tradition of serving the salad after the main dish is rooted in the idea that salad helps you digest your meal. However, if you are more accustomed to eating a salad before your main course -- either because you've always done it that way, or because you want to make sure you and your guests get in your greens before your potatoes -- this is perfectly acceptable.
Step 4
Place two large serving utensils in the main salad bowl so guests can serve themselves by filling their salad bowls or adding the greens to their main plates. The serving utensils can be two large forks or spoons designed for salad serving. You can purchase these to match your main salad bowl and even purchase your entire salad-serving apparatus in one kit.
Step 5
Make dressing available for those who would like extra or if you choose to have your guests season their own salads. Place either bottles of dressing, in the case of an informal meal, or dressing in serving dishes, for a dressier occasion, by the main salad serving bowl. Have a variety of tastes available to match the kind of salad you have made.