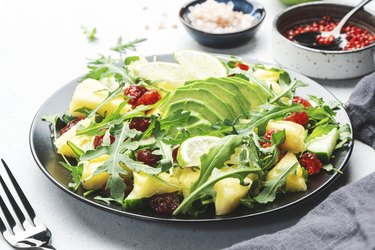 Salad bowl rules vary from the casual dinner table to an elegant banquet buffet, but it's the ingredients in the salad that determine whether all those greens and vegetables are a hit or a miss – on the table that is. And while salads are considered a healthy food, the calories can add up, depending on what you add to your salad bowl.
Serving the salad can also be an exercise in decorum, especially when the greens spill all over the newly starched tablecloth or the dressing drizzles on the table while moving from salad bowl to plate. A little common sense helps navigate the tricky task of how to serve a salad at a party.
"Who wants to be mother?" is a phrase used in British households when serving anything from a salad to an entrée to dessert. "Mother" helms the serving utensils, while people pass their plates. This avoids spills and serving disasters, and everyone gets to determine how much they want put on their plate. Diners may choose a tabletop dressing, or the host can dress the salad ahead of time.
The "mother" method also works when serving salad at dinner parties. As with meals at home, it gives the diners a voice in what they want. Don't like tomatoes? Leave them in the salad bowl. Love avocado? An extra helping is sure to please. Unless you have a footman serving individual guests from silver platters, the "mother method" is an excellent method for serving salads.
Party Rules for Serving Salads
If you are serving a green, leafy salad at a party, consider putting the greens in one bowl and surrounding it with a variety of extra ingredients to let the guests choose for themselves. Be sure your serving utensils are large enough to handle the greens, and use smaller utensils for the adjacent ingredients. Smaller salad bowls are recommended.
If the host is serving the salad, keep the greens cold until the last minute. No one likes a soggy salad, and the refrigeration keeps them fresh. Dress and toss as soon as the bowl exits the refrigerator and plate and serve. This is your chance to entertain with salad tong flourishes.
A variety of salad dressings is suggested, and labels describing each dressing is a clever way of avoiding questions during dinner service and preventing those with allergies from falling face down into the salad bowl.
Some posh restaurants serve their salads with cold salad forks. If you've ever tried eating with a utensil that's ice cold, you know it's not pleasant. But a dedicated salad fork is essential when a multi-course dinner is being served. And don't hold onto that fork when dirty salad dishes are removed. If the server doesn't know better and places your salad fork back onto the table, ask for it to be removed and replaced.
Serve Salad Dressing at a Wedding
If tableside service is performed at a wedding, the waiter is usually followed by another who offers the choice of dressings. If not, then the dressings should already be on the table in decorative jars or containers, labeled. And when the bride visits your table, please don't wave your fork loaded with salad greens and decorate the bride's gown with salad oil.
A wedding will occasionally present a salad as a "fait accompli" for expediency, and it's up to the diner to accept or reject all or part of the offering. Don't feel compelled to eat any or all of it. Just pick and choose what pleases you. And again, look for dressings already on the table.
When serving individual salads at a party or letting the guests choose from a bowl of greens and accompaniments, always keep the dressing on the side and the salad in a separate bowl. While serving salads at a party, some hosts prefer to dress the salad in advance. The use of a mild vinaigrette, or plain oil and vinegar is suggested if this option is used. Providing a selection of dressings, however, is a safer bet when the guests choose the dressing for themselves, due to food preferences and allergies.