Over the years, Lipton Onion Soup Mix has been snapped up for seemingly everything but onion soup. The dry blend saves measuring time by combining spices in a single packet. As a coating, Lipton Onion Soup Mix teams with breadcrumbs to create a savory crust on baked pork chops. If you prefer the chops unbreaded, use the dry mix to season the cooking liquid for slow cooker pork chops that are savory and fork-tender.
Baked Pork Chops
Step 1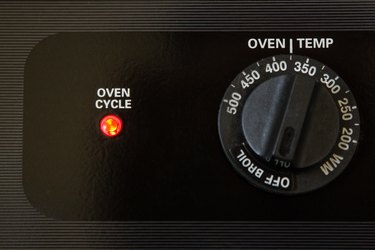 Preheat the oven to 375 degrees Fahrenheit.
Step 2
Blend together 1 envelope of Lipton Onion Soup Mix with breadcrumbs at a rate of about 2 parts breadcrumbs to 1 part onion soup mix. Double this amount if you have more than four chops.
Step 3
Brush four pork chops with beaten egg yolk or mustard on both sides. Dredge the chops through the soup mix.
Step 4
Shake off excess breading, and put the chops in a baking pan. Place the pan in the preheated oven.
Step 5
Bake the pork chops for about 15 minutes, then turn each chop. Bake them for another 15 minutes.
Step 6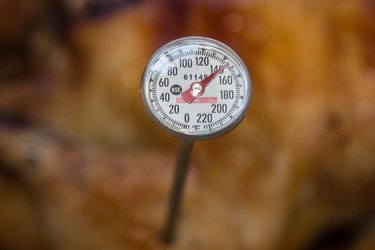 Remove the pork chops when a cooking thermometer inserted into a chop's meatiest part registers at least 145 degrees Fahrenheit.
Step 7
Rest the chops for 3 minutes, then serve.
Slow Cooker Pork Chops
Step 1
Cook the pork chops in a skillet until they are brown on both sides. This will take about 3 minutes per side.
Step 2
Mix together 1 small can of chicken broth with 1 envelope of Lipton Onion Soup Mix in a bowl.
Step 3
Place the chops into the slow cooker and pour the oniony broth over them.
Step 4
Put the lid on the slow cooker and turn it to the "Low" setting. Cook the chops for 6 to 8 hours, or until they are tender and a sample chop registers an internal temperature of least 145 degrees Fahrenheit.
Step 5
Remove the chops from their cooking liquid and let them rest at 3 minutes before serving.
Tip
If you have a few extra minutes before hustling the pork into the oven, combine pork chops and Lipton Onion Soup Mix with a few other ingredients to make "smothered" pork chops. After browning chopped onions and four to six pork chops separately, combine them in an oven-safe skillet with the onion soup mix, apple juice and chopped apples. Bake the mixture in a 350 F oven for about 45 minutes. Lipton's sells a few variations on the basic onion soup. You'll also find beefy onion, mushroom onion and golden onion blends, which bring in some different flavors for pork chops.
Warning
Dry soup mixes are typically high in sodium. These dishes may not be suitable for you if you're on a low-sodium diet.