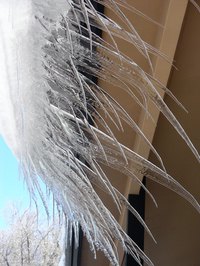 In cold climates that experience regular snowfall and icy conditions, a felt roof liner may not be enough to protect a roof from damage caused by heavy ice and snow. Installing an ice and water shield will provide more protection from leaks and damage. Ice and water shields are rubberized material that has an adhesive backing. For best results, ice and water shields need to be installed during the summer months.
Things You'll Need
Felt roofing paper
Gloves
Ice and water shield
Staples, 3/8 inch T-40
Staple gun
Box cutter
Shingles
Roofing nails
Choose the best time to install the ice guard. During hot summer months the adhesive heats up and adheres better than winter months; however, the adhesive is extremely sticky and can get all over you. Installing during the early morning or late evening hours helps to reduce the stickiness of the adhesive.
Remove the existing roofing in eight to 10-foot sections to reveal the roof sheeting. Inspect the sheeting and replace any damaged or rotten sheets.
Roll the first line of the shield along one horizontal edge overlapping the eave and edge about two inches. Always wear protective gloves when handling the ice shield. The top side of the shield has a sandy texture. Rolls of the ice shields come in three foot rolls with a total of 66 lineal feet. Cut the length of the sheet to fit the roof. Pull off the protective backing and press the Shield into the roof sheeting for the adhesive to take effect. Do not staple or nail the shield unless it is absolutely needed.
Overlap the first line with the second line. The overlapped area should be three inches. Remove the back and adhere it to the roof. Continue this process until the roof is covered. A second and third layer can be added to areas that collect ice and water such as low lying areas and valleys.
Cover the roof with roof felt. Roof felt is available in 15 pound and 30 pound weights. 30 pound roof felt is recommended for cold climate roofs. The roof felt should be rolled covered in the same manner as the shield with three inch overlapping edges. Use the T-40 staples and the staple gun to attach the felt to the house. Roll the felt over the vent holes these will be cut out when the shingles are installed.
Attach the shingles or roofing materials in the regular fashion.