Things You'll Need
1 yard polar fleece

Scissors

Yard stick

Chalk

Spool of thread

Sewing machine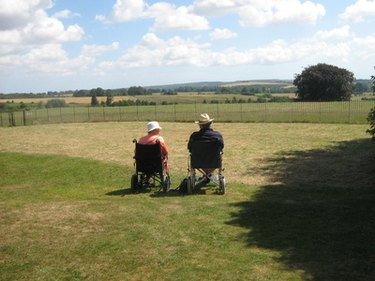 Specially made blankets make wonderful gifts for people in wheelchairs because normal blankets have a tendency to get caught in the wheels. You can make a wheelchair blanket in about an hour and for very little money. When you make it yourself instead of buying it, you can customize it to suit the preferences and personality of the person who will use it. Because it is designed to stay away from a wheelchair's wheels, it is perfect for traveling or for staying at home.
Step 1
Cut the polar fleece into a rectangle measuring 30 inches by 42 inches. Fold the rectangle in half both directions to make sure you have cut it squarely. You can also use a yard stick and piece of chalk to square up your rectangle before you cut it.
Step 2
Lay the rectangle out on the floor vertically so the 30-inch side is along the top and bottom. Measure 10 inches up from the bottom of the rectangle on both sides. Use chalk to mark 10 inches up from the bottom.
Step 3
Measure 12 inches in from each of the bottom corners of the rectangle toward the center of the rectangle. Mark these two spots with chalk. Use your yard stick to connect the two chalk marks on the left side of the blanket. Draw a diagonal line. Do the same thing on the right bottom corner of the blanket. You should have two triangles drawn into the bottom corners of the blanket. If the triangles look uneven, make adjustments to make them symmetrical. When you are satisfied that they look even, cut the fleece along the chalk lines.
Step 4
Thread your sewing machine and set the stitch setting to a tight zigzag. Use the zigzag stitch to bind the outside edge of the entire blanket. Do not pull on the fleece as you run it through the sewing machine because doing so will ripple the edges. Just keep a nice, even tension as you stitch around the edges.
Step 5
Trim the threads after you have sewn the entire outside edge of the blanket.
Tip
If you have access to an embroidery machine, add a monogram or a name to the blanket for a personal touch. This also helps with identification of items in nursing homes.