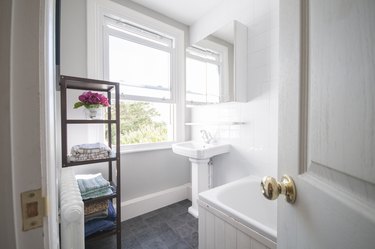 If you're looking to clear up some cluttered counter space in your bathroom, a medicine cabinet can be a huge help. A medicine cabinet is the ultimate bathroom organizer. A wall-mounted unit can provide ample room to store all of your bathroom essentials, like medicine, face wash, moisturizer, deodorant, toothpaste and any other items you're tired of looking at. Medicine cabinets are of course functional, but the right one can also add some style to your bathroom.
What to Consider When Purchasing a Medicine Cabinet
​Size:​ Before you decide on the size of your new medicine cabinet, you need to measure the vanity or sink it's being installed over. Generally for aesthetic purposes, a medicine cabinet shouldn't be any wider than the vanity. In fact, it should be a few inches smaller. Most medicine cabinets are between 24 and 30 inches tall, so you'll want to make sure that there's plenty of room to open the cabinet door without bumping into any bathroom fixtures. You also might want to take into account the depth of the unit, especially if you have larger items that you plan to store in the cabinet.
​Installation:​ Medicine cabinets come in two main styles: surface-mount and recessed. Surface-mount is the easiest to install, as it only requires hanging the cabinet on the wall like a mirror. It can be a fun (we use that term loosely) DIY project. Recessed requires cutting into the wall, building the cabinet framework and installing the unit between wall studs. Many units are dual-mount, allowing you to choose between both options. Since the installation of recessed cabinets is more involved, it might be worth it to hire a professional.
​Materials:​ You can find medicine cabinets in a variety of materials, including aluminum, wood, plastic, and stainless steel, just to name a few. Aluminum is waterproof and has an oxidized finish that prevents the unit from rusting in high humidity areas like bathrooms. Wood cabinets are sturdy and durable. Plastic is lightweight, the easiest to install and generally the least expensive. Stainless steel cabinets are aesthetically pleasing, durable, and offer protection against bacteria and germs.
​Features:​ There are several features to consider when deciding on the right medicine cabinet for your bathroom. Depending on where the unit is placed, you may or may not want it to have a mirror. Adjustable shelves are nice for accommodating both small and large products. Some models allow for customization of the doors to be opened from either direction, some provide built-in lighting and some offer fog-resistant glass. If you have kids, you might want to consider a unit that locks and use it as a safe place to store medicine and other items that aren't kid-friendly.
Browse through our top picks for the best medicine cabinets of 2022 below.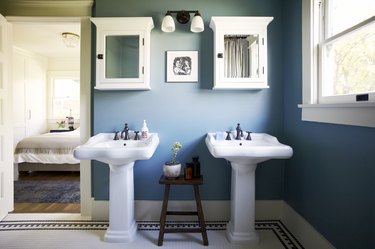 The Best Overall Medicine Cabinet
Kohler Archer Frameless Mirrored Medicine Cabinet
With this sleek frameless medicine cabinet, you'll add some elegance and a whole bunch of organization to your bathroom. Constructed from aluminum for maximum durability and rot-resistance, the unit features adjustable tempered glass shelves to hold your toiletries. While a mirror makes up the entire outside door, the inside of the door is also mirrored, as is the back wall of the cabinet interior.
​Dimensions:​ 20" x 3.625" x 31"
​Mount Type:​ Surface-mount, recessed
​Door Opening:​ Two-way
​Material:​ Aluminum
​Color Options:​ Silver
​Special Features:​ Mirror, adjustable shelves, dual door swing, mirrored door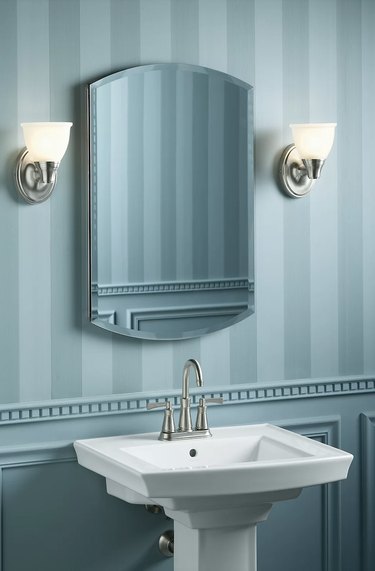 The Best Space-Saving Medicine Cabinet
Umbra Cubiko Modern Medicine Cabinet
Designed for small spaces that need maximum storage (like guest bathrooms or campers), the cabinet door on this unit doesn't open. Instead, you can hide your bathroom essentials behind the mirror with easy access through either side of the unit. There are three shelves that can hold up to 40 pounds. Made of powder-coated steel, the cabinet is rust-resistant.
​Dimensions:​ 12" x 5" x 24.5"
​Mount Type:​ Surface-mount
​Door Opening:​ N/A
​Material:​ Metal, powder-coated steel
​Color Options:​ Black
​Special Features:​ Side access, mirror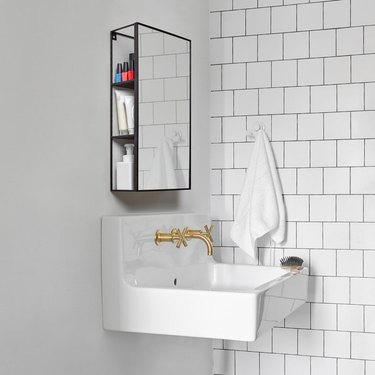 The Best Design-Forward Medicine Cabinet
Kate and Laurel Cates Rustic Medicine Cabinet
If your home has a vintage farmhouse vibe, this rustic Kate and Laurel Medicine Cabinet will fit in perfectly and add a lot of charm. The cabinet features a unique sliding barn door that opens to two shelves on one side, with three sections for storage and an inset mirror on the other. The shelves aren't moveable, but the top one allows for taller items. It comes in either rustic white or more of a natural brown wood finish.
​Dimensions:​ 21.75" x 5" x 27.75"
​Mount Type:​ Surface-mount
​Door Opening:​ Sliding
​Material:​ Wood
​Color Options:​ White, brown
​Special Features:​ Inset mirror, sliding barn door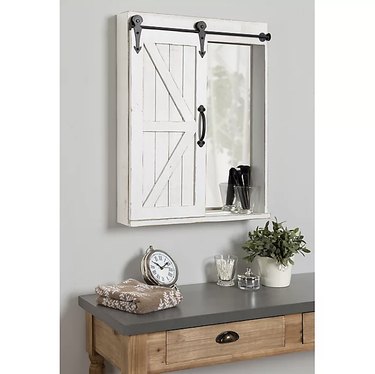 The Best Medicine Cabinet with Integrated Lighting
Paris Mirror Harmony Framed Medicine Cabinet
This one is way more than just a medicine cabinet. Sure, it has two doors with three adjustable shelves on each side for plenty of storage, but it also provides ample LED lighting for makeup application, shaving, popping pimples, or whatever else you need to do in the bathroom mirror. The cabinet part is really a welcomed bonus.
​Dimensions:​ 48" x 5.25" x 28"
​Mount Type:​ Surface-mount
​Door Opening:​ Two-door/one way
​Material:​ Metal
​Color Options:​ Brown
​Special Features:​ Eco-friendly, integrated lighting, Kelvin temperature of 3000K, adjustable shelves, mirrored doors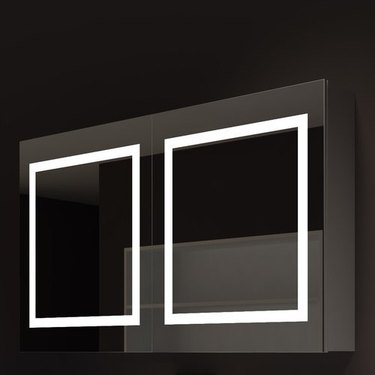 The Best Medicine Cabinet with the Most Size Options
Croydex Winster Hang 'N Lock Medicine Cabinet
You're bound to find something that works in your bathroom with Croydex Winster's wide array of medicine cabinets. There are several sizes and shapes to choose from, along with one, two or three doors, and anywhere from two to nine adjustable shelves, depending on the model you choose. The company's hang 'n' lock feature offers the flexibility to change the level of your medicine cabinet after you've already drilled holes, making it easy for a single person to install it.
​Dimensions:​ 20" x 16" (single door), 26" x 20" (single door), 26" x 24" (double door), 26" x 30" (double door), 26" x 20" (triple door), 26" x 26" (triple door), 30" x 24" (single door), 31"x 21" (single door)
​Mount Type:​ Surface-mount, recessed
​Door Opening:​ Two-way
​Material:​ Aluminum
​Color Options:​ Silver
​Special Features:​ Hang 'n lock, mirrored door
The Best Anti-Fogging Medicine Cabinet
Home Depot Fog-Free Mirrored Medicine Cabinet
There's really no way around a mirror getting at least somewhat steamed up in the bathroom during a shower, but The Home Depot's Fog-Free Mirrored Medicine Cabinet can certainly lessen the fog. The innovative fog-free technology featured in this medicine cabinet allows you to shower without needing to wipe off the mirror just to see yourself. Two adjustable shelves provide plenty of storage space and the door is reversible, meaning it can be installed to open from the left or right side.
​Dimensions:​ 20.75" x 5.35" x 25.75"
​Mount Type:​ Surface-mount, recessed
​Door Opening:​ Two-way
​Material:​ Wood composite
​Color Options:​ White finish with satin nickel knob
​Special Features:​ Fog-free technology, mirrored door
The Best Lockable Medicine Cabinet
Croydex Trent Lockable Medicine Cabinet
If you have kids or live with someone who shouldn't have access to your medication or other bathroom items, you can securely lock everything up in this stainless steel medicine cabinet. The unit comes with keys, you just have to make sure they don't get lost (or found). A fixed stainless steel shelf allows for tall items on the bottom and smaller items above.
​Dimensions:​ 9.8" x 5.1" x 15.7"
​Mount Type:​ Surface-mount
​Door Opening:​ 160-degree hinge
​Material:​ Stainless steel
​Color Options:​ Silver
​Special Features:​ Lockable, mirrored door