Cold frames are a great option if you're looking to prolong or get a head start on a growing season, protect your seedlings or tender plant cuttings, or grow salad greens during winter (yum!). Typically made with an open bottom, a wooden frame and a clear top, cold frames create a microclimate that is anywhere from 5 to 10 degrees warmer than the temperature outside. Sunlight enters through the sloping, transparent roof and warms up the interior, allowing you to grow cold-hardy vegetables well past the first frost.
Whether you have only a sliver of a balcony or a large swath of the backyard to dedicate to a cold frame, there are many different sizes and styles available. Choices include everything from low to the ground single boxes to those that have several tiers and shelves.
Below are some aspects you should consider when purchasing a cold frame so you're sure to get the one you need. We've also reviewed seven different styles of cold frames and noted their benefits.
Tip
Those requiring even warmer temperatures for plant protection should buy a greenhouse with an indoor temperature that's 20 to 30 degrees warmer than the outdoor temperature.
What You Should Consider When Purchasing a Cold Frame
​Location and Size​: Cold frames come in various sizes and styles so be sure to purchase one that will fit in the area where it will be used. You'll find ones that are taller than they are wider, fitting well into vertical spaces. Depending on the style and size, you can use cold frames on a balcony, porch, raised bed, or anywhere in your garden that receives full sunlight.
​Ventilation​: All types of plants require the circulation of air to survive and produce healthy growth. Although the lid should be able to shut tight during bouts of cold weather, when temperatures are on the rise, you should be able to open the lid to allow air inside to prevent your plants from overheating. The cold frame gets bonus points if it has a mechanism to keep the lid propped open.
​Material​: Purchase a cold frame that is manufactured from durable and sturdy materials to add years of life. You want it to be able to withstand poor weather conditions like rain and wind. In addition, make sure the top and sides are made from a material like polycarbonate and are transparent to allow light to get inside.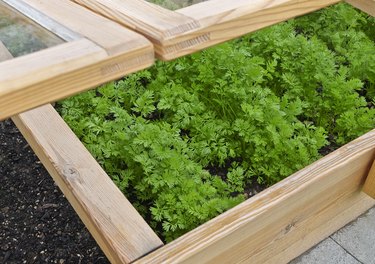 The Best Overall Cold Frame
Giantex Wooden Cold Frame
Made from sturdy, weather-resistant fir wood, the Giantex wood cold frame is the perfect choice for extending your growing season. The durable frame is waterproof and the transparent PVC lid welcomes in sunlight while keeping warmth inside the cold frame. You can flip the top door open easily to check on your plants or foster airflow. It protects your plants from poor weather like rain, wind or frost and keeps out pests when closed. With the bottomless design, you can place the cold frame directly over plants while allowing them to continue receiving nutrients from the soil. It measures 39 inches long, 19.5 inches wide and 14 inches high, so it's plenty big enough to contain seed-starting trays or your flowers and vegetables. The cold frame's rustic and simplistic style makes it an attractive addition to a patio, balcony or yard.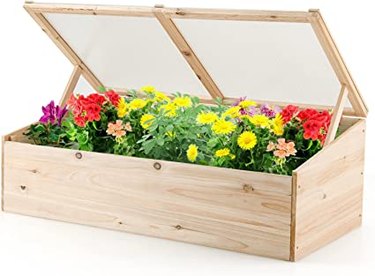 The Best Budget Cold Frame
Playinyard Wooden Cold Frame
Protecting your seedlings and plants doesn't have to cost a fortune with Playinyard's budget-friendly natural wood cold frame. It's large enough to hold your plants and plant trays at 39.4 inches long, 25.6 inches wide and 15.7 inches high, but is small enough to fit on your balcony or patio. The flip-open top and sides made from transparent polycarbonate let sunlight inside while keeping things warm and protecting your plants and seedlings from wind, rain or frost. The metal side bolts secure the open top in various positions, allowing for ventilation and tending to plants. Your plants will continue to receive soil nutrients and there's no worry about water accumulation with the open bottom. It's easy to assemble and will protect your plants season after season while you get to keep a few dollars in your pocket.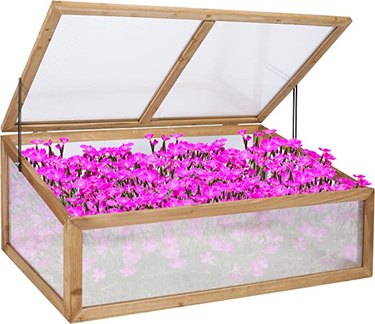 The Best Raised Cold Frame
Giantex Raised Wooden Cold Frame
This large, solid wood cold frame made from Chinese fir is a good size at 30 inches long, 22.5 inches wide and 43 inches high. It boasts two shelves that add vertical space for storing additional plants. The polycarbonate top and sides allow sunlight to enter while keeping everything inside warm and protected from inclement weather. You can fold the top open and the hinged side bolts allow you to keep the top open for ventilation or to tend your plants. Two wooden slat shelves are durable enough to hold seed trays, veggies or flowers, which makes it easy to prolong or get a head start on the season. The simple design and durable wood framework make this raised cold frame a perfect addition to your patio, balcony, or indoor or outdoor spaces.
The Best Cold Frame With Shelves
BIGTREE 3-Tier Wooden Cold Frame
If you're looking for shelf space in a portable cold frame, then you won't be disappointed with BIGTREE's three-tier wooden cold frame. The structure is made from durable and sturdy fir wood with three wooden slat shelves. Its dimensions are 27 inches long, 19 inches wide and 47 inches high, so it's big enough to hold a vast array of plants or trays. The frosted polycarbonate sides and flip-open top draw sunlight inside while retaining warmth. Your plants are protected from poor weather conditions and pests while closed. Just flip the top open on warm days to ensure proper airflow to your plants. At 13 pounds, it's lightweight enough to move easily and its basic design makes it a good addition to all your outdoor spaces and even indoors. It's the perfect size for small-space gardening and its vertical design gives you plenty of room for growing multiple plants at once.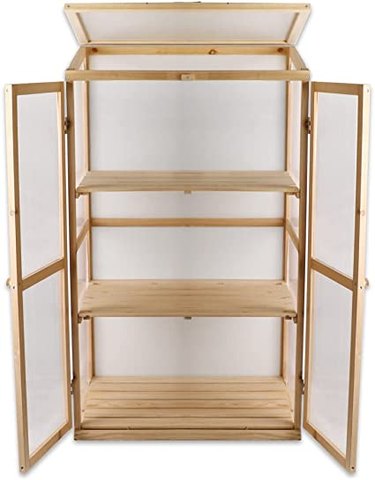 The Best Standing Cold Frame
BIGTREE Raised Standing Wooden Cold Frame
BIGTREE's raised and standing wooden cold frame looks more like a piece of furniture than a useful gardening tool. Made from 100% fir wood, the cold frame is engineered for stability and durability, which leads to years of use for holding your plants or seedlings. Its dimensions are 35.5 inches long, 20.2 inches wide and 41 inches high, so it's big enough to hold a few plants but small enough to fit on your balcony or patio. Its vertical height means less bending over while tending your plants. The transparent polycarbonate sides and top permit sunlight to enter while keeping things warm inside. You can easily prop the top open for improved ventilation. There's also a bottom-slatted shelf where you can store your gardening tools. The standing cold frame is a breeze to assemble and along with its usefulness it has a decorative appeal.
The Best Combination Planter and Cold Frame
Outsunny Raised Planter and Wooden Cold Frame
With Outsunny's combination of a raised planter and cold frame, you get the best of both worlds. You're able to plant veggies or flowers in the bottom planter section and then protect them during bad weather like frosts or rain by placing the cold frame section on top. Its overall dimensions are 48 inches long, 24 inches wide and 32.25 inches high, giving you ample room to grow several plants at once. The frame is made from durable hardwood and the polycarbonate top and sides add to the cold frame's stability, all while allowing sunlight and warmth to enter. The top flips open easily so you can tend your plants and increase airflow. The planter and cold frame fit perfectly on top of a table but you can just as easily use them in the yard.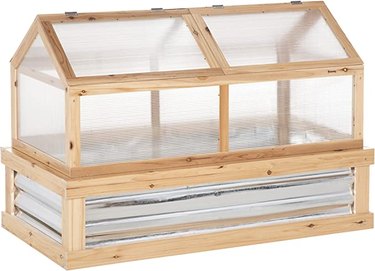 The Best Double Box Cold Frame
MCombo Double Box Wooden Cold Frame
MCombo's double box wooden cold frame provides ample space for growing plants or seedlings. Its dimensions are 35.4 inches long, 31.5 inches wide and 22.8 inches high, so it's big enough to use in the yard or even on a patio. You can flip the adjustable roof open on two sides and tighten the screws in the desired position to prop it open and generate airflow. There are drainage holes on the roof allowing for any rainwater to run off and not accumulate on the cold frame's top. It's made from 100% fir wood with high-quality hardware and you can paint or stain the cold frame if desired. The top and sides are made from durable double-walled polycarbonate that protects your plants from poor weather conditions. This cold frame is made to last through years of gardening.