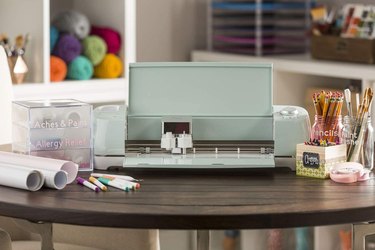 If you love spending your free time crafting, designing handmade invitations or cards, capturing memories in beautiful scrapbooks, sewing gorgeous quilts, or even customizing clothing and signs, a die-cutting machine could bring your creative projects to a whole new level. A die-cutting machine will free you from hours and hours of tedious hand cutting and give you the precise image cuts you've been striving for.
A die-cutter will cut even the tiniest of paper designs, including letters, in a fraction of the time it takes to hand cut. Quilters can enjoy watching intricate fabric designs being cut with complete accuracy before their very eyes with a die-cutter. If you enjoy transforming plain clothing, cups or signs into works of art using vinyl cutouts, a die-cut machine can quickly become your new best friend. But, how do you choose from all of the options available today? We're here to help you wade through the possibilities and find just the right machine for your needs.
What to Consider When Purchasing a Die-Cutting Machine
‌Versatility:‌ The questions you should ask are, "What kind of projects will I be making?" and, "What kind of materials will I be using?" If you plan on just cutting paper to use for cards, invitations and scrapbooks, you could go with a small and inexpensive machine. But, if you plan on cutting a large variety of materials such as paper, vinyl, cardboard, leather and fabric, then investing in a more expensive, heavy-duty die-cut machine may be worth your while.
Manual die-cut machines have been around for a long time. These machines usually use a hand crank to push material through the machine and a lever to actually cut the shapes. There is no electricity needed for these machines. Manual machines are best to use when you're only planning to cut a few designs because each shape requires a separate die, which could get expensive if you need many different shapes. Manual machines could also be advantageous for cutting through multiple layers of thick material, making many cuts of the same shape, or if you simply don't want to be tied to a computer. Manual machines are generally less expensive and are simpler to use than digital machines.
Digital die-cut machines are plugged into your computer much like a printer, only the die-cut machine will use a sharp blade to cut the image instead of printing it with ink. Once you download the program, it will allow you to draw or create your own designs or import pre-made images to be cut. A digital machine is ideal for those crafters who enjoy designing digitally, want limitless designs at their disposal and are willing to pay a bit more.

‌Ease of Use:‌ The last thing you want when you purchase a die-cut machine is to be afraid to take it out of the box because it has such a steep learning curve. The most simple, manual roller-cut machines are pretty intuitive and can be taken out of the box, set up, and put to use quickly and easily. But if you want to create your projects using a digital die-cut machine, you may need to spend more time reading the handbook or accessing online training. Some machines include technical support, so if this is important to you, be sure to choose a product that includes assistance. In addition to the training included with your purchase, there are many free groups on social media for owners of specific die-cut machines. The members of these groups can help answer questions, give advice and even share inspirational project ideas.
‌Price:‌ Die-cut machines can range in price from $50.00 to over $1,500.00. The more expensive machines are definitely more powerful and durable, but they may be more of a machine than you need. The least expensive machines will most likely be simpler to use and lighter to carry but they might not be enough to suit your designing needs. It's important to determine what you'll be creating, how often you'll be using it, and where you'll do most of your work so you can choose an appropriate die-cut machine for the best price.
‌Portability:‌ If you plan on traveling with your die-cutter and need to transport it quite often, you'll most likely want to purchase a small manual die-cutter. They tend to be lightweight and don't need to be hooked up to WiFi and a computer. If you are lucky enough to have a crafting/sewing room and can leave your die-cut machine hooked up to your computer then you might want to consider a digital die-cut machine.
Let's take a look at some of the best die-cutting machines of 2022 to help you make your decision.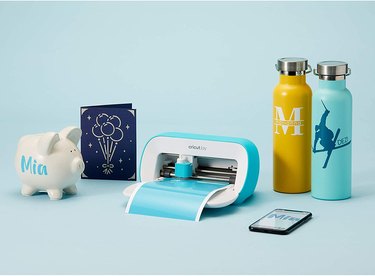 The Best Overall Die-Cutting Machine
The Cricut Maker 3 is one of the most versatile die-cutters on the market, capable of cutting over 300 materials. It operates two times faster than the original Maker and works with Smart Materials, which can be used without a cutting mat. The Maker 3 is compatible with 13 different tools that are all sold separately with the exception of the premium fine point blade, which comes pre-installed. The knife blade, for example, is ideal for cutting balsa wood, basswood, leather and craft foam, while the rotary blade expertly cuts fabric and even highly delicate materials.
Good news for all you fabric crafters—the Cricut Maker 3 has a sewing pattern library, which will eliminate the need for marking the pattern on the fabric and then cutting it out by hand. It works with 12-by-12-inch and 12-by-24-inch mats but can also cut lengths of up to 12 feet long (sans mat) when using Smart Materials rolls.
The Maker 3 features storage in the door and an additional storage cup on the side. Both cups are lined with rubber to protect them from sharp tools. There is also a slot for a mobile device with a charging port so you can charge your iPhone or iPad directly from the machine and use Bluetooth for wireless cutting. In addition, you can upload your own designs and fonts at no additional cost.
At 22.1 inches long, 7.1 inches wide and 6.2 inches high, this machine will fit nicely in any sewing or craft studio. It weighs 15.4 pounds, so it's lightweight enough to bring to a friend's house or craft fair. It also comes with a 1-year limited warranty.
The Best Budget Die-Cutting Machine
The Bira Craft Die-Cutting Machine is just right for basic cutting needs with paper and vinyl. There's no need to spend lots of money on a machine that does more than you need. For those crafters who like to create smaller projects like cards and scrapbooks, this machine will cut up to 3 inches wide. It measures 13.5 inches long, 12 inches wide and 8.25 inches high and weighs a little over 10 pounds, so it's easy to store and set up for occasional projects. This compact machine makes it easy to carry with you to crafting events and you can operate it without electricity.
The Best Digital Die-Cutting Machine for Beginners
With so many different die-cutting machines on the market, it can become a daunting task for a beginner to choose a machine that will work best for them. The Cricut Explore Air 2 is an excellent and affordable option. There's a newer version, the Cricut Explore Air 3, which cuts faster and is compatible with Smart Materials, but the Explore Air 2 costs significantly less.
Because it is so user-friendly, a newbie will welcome opening the box and getting started. Even though this machine needs to be connected to WiFi, the USB and Bluetooth connectivity will make it easy to download images for projects.
The Cricut Explore Air 2 is extremely versatile, it will cut, write and score materials such as vinyl, leather, card stock, paper, fabric and much more. It comes with a fine point blade and housing, an adhesive cutting mat, a black fine point pen, access to Cricut's design software Design Space with 3,000 ready-to-make projects, and a 2-week free trial to Cricut Access. You can create custom invitations, greeting cards, home decor, party favors, custom stickers, unique clothing apparel, homemade gifts and limitless DIY projects.
There is also an incredibly large community of creators on social media that you can connect with to get advice and inspiration. Its dimensions are 34 inches long, 9.5 inches wide and 9.5-inch inches high and it weighs in at 14 pounds, meaning it's solid enough to look, feel and act like a professional machine for a fraction of the price.
The Best Die-Cutting Machine for Quilters
If you're into sewing and quilting, the AccuQuilt Go is the die-cut machine for you. AccuQuilt Go will help you cut those intricate designs up to 10 inches in width with precision and accuracy. This machine will cut a wide range of fabrics like cotton, wool, silk, flannel, fleece, denim, leather, satin, batting and felt. It will even cut up to six layers of fabric at once. The AccuQuilt GO die-cutter comes with two square dies and one half-square triangle die, in addition to a cutting mat.
The Best Manual Die-Cutting Machine
If using computer software or electricity isn't your thing then the Sizzix Big Shot Die-Cutting Machine is an outstanding choice for both beginners and experienced crafters. It will cut up to 6-inch designs. This machine is simple and straightforward—all you need to do is load the die and turn the hand crank to complete the cut. This machine is also quite versatile in its cutting capabilities. It can cut a wide range of materials from tissue paper to balsa wood. It comes with two sets of dies and there is also a wide assortment of dies in different shapes and sizes available for purchase. At 14.25 inches long, 12.36 inches wide and 6.61 inches high, and weighing in at 7.5 pounds, the Sizzix Big Shot is a perfect candidate to load up and take with you to all of your crafting events.
The Most Portable Die-Cutting Machine
If you are a traveling crafter, the Cricut Joy would make a great sidekick. This little mini-maker is a perfectly portable option for crafters who need something for small-scale projects. The Circuit Joy is less than 9 inches long, weighs only 3.9 pounds, and you can cut a single image up to 4.5 inches by 4 feet. It's easy to stow away in a craft room drawer or load up in a tote bag to bring to your favorite crafting event. Connect your phone or computer wirelessly to it through Bluetooth. Since it's so lightweight and convenient, it can be easily carried to kids' parties and it's so simple to use, even kids can create successful projects.