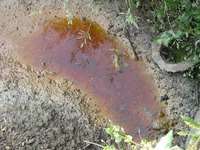 Broken sewer drain pipes must be replaced immediately so that sewage does not back up into the building or overflow on the ground. Broken sewer pipes can create unsanitary conditions and cause additional problems.
Things You'll Need
Locate the damaged pipe. Dig down to and all around the damaged pipe. Dig one foot on each side beyond the damaged portion. Dig down eight inches under the pipe to allow room for cutting.
Identify how much of the pipe is damaged.
Cut two inches beyond the broken pipe end on each side. Remove broken pipe.
Measure the distance between the cut ends of the pipe. Subtract one inch from the measurement to allow space for flexible coupling. Mark new pipe by using this measurement and cut on mark.
Clean off all dirt and debris around existing pipe.
Push one flexible coupling on each side of the new pipe. Press the couplings onto the pipe until they are flush with the edge.
Place replacement pipe in between existing pipe ends and slide the couplings onto the original pipe at the cut ends.
Tighten all coupling clamps.
Fill dirt back around pipe. Pack dirt down every two inches using a heavy object such as a sledgehammer or equivalent. Mound dirt over buried pipe to allow for settling.