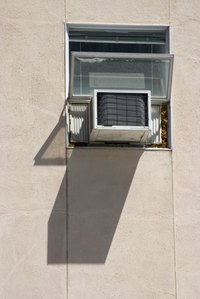 To install and secure a window air-conditioner all you need is a screwdriver and the installation kit provided with your AC unit. Even if you're securing a second-hand window unit, the process is simple and should only take a few minutes. The weight of an AC window unit can sometimes force open a window and cause the unit to fall. Always properly secure your window air-conditioning unit to prevent any damage to the unit or to the area below the window.
Things You'll Need
Sheet-metal screws
Screwdriver
Level
Angle brackets
Bracket (optional)
Drill (optional)
Foam weather stripping
Check the installation instructions (if this is a new air-conditioner) and find out if mounting brackets are required. If they are, they will likely be included in your installation kit.
Mount a bracket to the wall outside the window, if required by the manufacturer. Use a level and sheet-metal screws to install the bracket.
Open the window and place the air-conditioner on the windowsill. Close the window over the unit to help hold it in place.
Attach the side frames or accordion panels to either side of the window unit according to the manufacturer's instructions. You may need to drill pilot holes in the window or window frame before securing the accordion panels with screws.
Install angle brackets to the upper sash of the window. This will further secure the unit by preventing the window from opening against the weight of the air conditioner. Angle brackets are available at home improvement stores and installed using small screws.
Fill the area around the window unit with foam weather stripping to prevent air seepage.