Things You'll Need
Guest list

Invitations

Game tables

Card game supplies

Slot machines

Servers

Menu

Music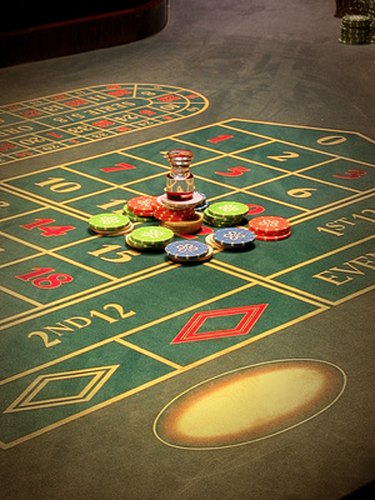 Casinos are a popular party-planning theme. Casino night frameworks are especially conducive to large parties because the games and activities provide guests a built-in means for easy mingling. Hosting a casino party can instill some old-school glitz and campiness into an otherwise routine party circuit.
Casino parties combine themed decor and cuisine to evoke the playful, over-the-top look and feel of a classic, high-roller Las Vegas casino. To host a successful casino party you'll need systematic planning, creative styling and just the right amount of indulgence.
Hosting a Successful Casino Party
Step 1
Determine the ideal size of your casino party and select your guest list; once you know how many people will attend, choose the location, date and time of your party.
Step 2
Design invitations that correspond to your casino night theme. Send them to guests at least three weeks in advance of your party date. Include a directive for your guests to come dressed in glamorous attire befitting an exclusive Vegas casino.
Step 3
Provide a number of classic casino games appropriate to the size of your party; best bets include blackjack, poker and roulette. Rent or purchase quality gaming gear, including poker chips, cards and dice, game tables and slot machines if desired.
Step 4
Hire dealers for your games who are well-versed in casino rules and procedures, as well as food servers and bartenders familiar with casino dining and drinking culture. Instruct them to dress the part as high-roller Vegas casino staff, donning attire such as white suits and green visors.
Step 5
Decorate your venue with festive accessories and atmospheric elements reminiscent of a Vegas casino. Arrange your gaming tables and slot machines in a manner that resembles a casino floor, enabling guests to move from one to the next with ease. Dress your tables with green felt tablecloths and glitzy centerpieces. Ask some willing guests to dress and pose as "cigarette girls" working the casino floor.
Step 6
Prepare a music play list corresponding to your casino night theme; standards such as Elvis, Frank Sinatra and any James Bond soundtrack will help get your guests in the high-roller casino spirit.
Step 7
Create a casino-themed menu conducive to an active party environment. Instruct servers to offer martinis and champagne along with upscale finger foods that guests can hold and eat while playing games. Set up a lavish buffet of surf and turf options. Transform the buffet into a spread of sweets featuring an indulgent chocolate fondue fountain.
Step 8
Greet your guests upon their arrival and give each her own set of poker chips for the evening's games. Make sure your guests are mingling, well-fed and thirst-quenched until the last farewell.