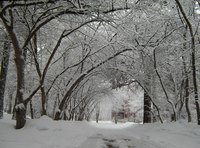 The 522R Insight Snowthrower, sold under the brand name Lawn Boy, was manufactured from 1997 through the year 2000 and refers to model numbers 28231 from 1997 and 28230 from 1997 through 2000. Both models and all years utilize a Tecumseh-manufactured engine with a 5 horsepower motor. The snow blowers have a two-stage snow discharge and cut a 22-inch wide clearance through the snow. The Lawn Boy website offers detailed product and operational manuals online, and replacement manuals are also available for purchase.
Stand directly behind the snow blower unit, holding the top handle with one hand.
Insert the key into the ignition with the other hand, turning it clockwise to the position marked "On."
Pull the choke lever, located on the center back of the unit, out towards your knees.
Depress the primer button, located next to the ignition key, firmly and steadily three times with your thumb, keeping pressure on the button for a second beat at the end of each press before release.