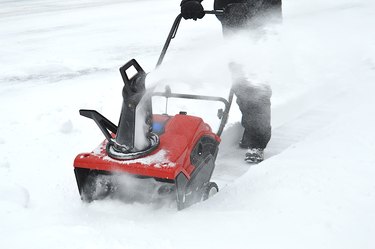 A reliable snowblower is critical to life in snowy conditions. Without one, the back-breaking work of shoveling snow from a driveway can take a significant toll. The S-200 and S-620 snowthrowers are part of Toro's snowthrower product line and were designed to make clearing snow faster and easier on the back.
Toro has been manufacturing outdoor equipment since 1914. Toro manufactures products for the golf equipment business, professional contractors, rental and specialty construction, sports fields and grounds, agriculture, and homeowners under the large umbrella of outdoor equipment. With a product line ranging from turf maintenance equipment for golf courses and drip irrigation solutions for farming to professional mowers and homeowner snowblowers, Toro features a wide range of solutions for all kinds of outdoor maintenance issues.
Homeowner snowblowers and snowthrowers are just a few of the many products Toro manufactures. The S-200 and S-620 snowthrower models were initially released in the 1980s and have since gone off the market. While Toro still manufactures snowblowers and snowthrowers for homeowners, these specific models can only be found secondhand through auctions and private sales. With a range of single-stage and two-stage snowblowers available, homeowners can easily find a snowblower that best suits their surface, slope and coverage needs.
Toro S-200 Product Details
Part of Toro's snowthrower product series, the Toro S-200 is technically not a snowblower. The Toro S-200 snowthrower is a single-stage snowthrower, meaning it can tackle light to moderate snowfall and is ideal for clearing walkways and driveways. Single-stage snowblowers are equipped with a rubber auger and a powerful engine that pulls the snow through a chute and discharges it in a single motion. While a two-stage snowblower scoops up the snow in the first stage, similar to the Toro S-200, and then passes the snow through a powerful impeller that launches snow up to 35 feet away in the second stage, single-stage snowthrowers are smaller and less powerful.
Two-stage snowblowers have a swath width, which is the width of snow the snowblower can cover with a single pass of around 26 inches. Snowthrowers typically have a swath width of about 11 to 22 inches. The Toro S-200 has a swath width of 20 inches. The S-200 snowthrower runs on a 2.5-hp, two-cycle Tecumseh engine. This product model is also equipped with an electric starter.
Toro S-620 Product Details
The Toro snowblower S620 is a single-stage snowthrower. The S-620 was released after the S-200 and shares many similarities to the previous model. As another Toro snowthrower series product, the S-620 is a single-stage snowthrower with a 20-inch swath width. Like the S-200, the S-620 is equipped with a 2.5-hp, two-cycle Tecumseh engine with an electric engine starter.
The S-620 engine does not run on gasoline and instead requires a mixed ratio of gasoline and engine oil. Engines that require a mix ratio typically indicate the necessary ratio on the fuel cap. The S-620 snowthrower requires a mix ratio of 50:1, meaning it requires 50 parts gasoline for every one part of engine oil. While the S-620 is nearly identical to the previous S-200 model, its primary difference is in the ratio mix required to fuel the snowthrower. While the snowthrower initially required a mix ratio of 32:1, the S-620 requires a 50:1 ratio.