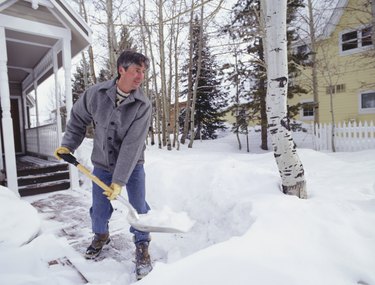 Snow throwers are "single-stage" snow movers; they use the same impeller to both scoop up snow from the surface to be cleared, and to project that snow away from the area. Snow blowers are "two stage" machines; they use an auger to scoop up the snow and a separate impeller to blow it away. Honda's model HS35 is a single-stage machine, and therefore is properly called a snow thrower, rather than a snow blower. Its release in 1980 entirely changed the home-use snow-moving landscape.
Design Criteria
Honda developed the HS35 specifically for the North American home-use market. Before this innovation, snow throwers had been manufactured purely for the commercial marketplace, aimed at civic and corporate entities involved in clearing public highways and railroad tracks. A compact model for home paths and driveways would need to balance weight and maneuverability against performance, and Honda felt that self-propulsion would be a requirement for most users.
History
The HS35 was released in 1980. Designed to balance a light usable weight with maneuverability, it was the first -- and thus at time of release the only -- self-propelled compact snow thrower available in the U.S. The snow-collecting and -blowing auger was rubber-coated to promote long life, and the propulsion mechanism was located behind the auger and at a level designed to allow it to make contact with cleared substrate, not snow. The only substantial change made to the HS35 during its production life was the substitution of rubber crawlers for drive wheels.
Evolution
As of February 2012, Honda's range includes two snow blowers and nine snow throwers, totaling approximately 50,000 units manufactured each year. All but one of the self-propelled models incorporates the hydrostatic transmission -- HST -- that make Honda's lawnmowers so successful. While some other products on the market demand often-complicated mechanical operations to change direction and to move from forward to backward movement, the HST system is operated using a single-lever drive selector and an infinitely-variable, stepless speed control.
Recall
In December 2010, American Honda Motor Co. announced a voluntary recall of approximately 18,500 model HS724, HS928 and HS1132 snow blowers. The fault was noted as being that, "The fuel tank joint and O-ring located on the underside of the fuel tank can seep or drip fuel over time, posing a fire hazard." Although model HS35 was unaffected, it shares many design elements and the red-and-black color scheme of models that were. To identify machines that have lost their badging over time, locate the frame serial number at the rear of the machine, immediately below the engine. Affected frame serial numbers are SZBE-1037913 through 1046577, SZAS-1151080 through 1169012 and SZBF-1018734 through 1025998.