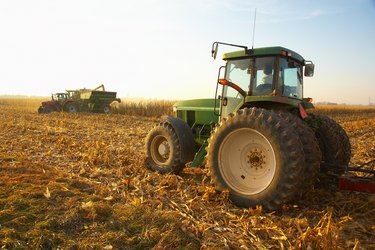 John Deere introduced the model 318 garden tractor in 1983. It remained in production for 10 model years, giving it one of the longest product lives in John Deere garden tractor history. Many 318s remain in use today. The model is highly regarded by John Deere collectors and those looking for a solid used machine.
Engine
An Onan 18 horsepower two-cylinder air-cooled engine powers the 318. Those produced from 1983 through 1987 had the 709 cc model B43G engine. From 1987 through the end of production they had the 781 cc model P281 engine.
Transmission
The 318 features hydrostatic drive with infinitely adjustable forward and reverse speed. The drive is controlled by a dash-mounted hand control.
Hydraulics
The 318 has two hydraulic circuits, controlled by levers mounted just to the left of the steering wheel. One circuit controls the mowing deck elevation. The other is an auxiliary circuit that can be used with both front and rear mounted implements, such as a snow blade or blower on the front or hydraulic tiller on the rear.
Power Steering
The 318 was one of the first lawn and garden tractors to feature full hydrostatic power steering. The slightly larger model 420 launched at the same time also had the feature.
Other Notable Features
The 318 has a reserve fuel tank, giving the operator 15 to 30 minutes of operation once the main fuel tank has been used. The power steering combines with a turning radius of just 26 inches to make the 318 a very nimble mowing machine. A hydraulic oil cooler prevents over-heating. The engine-to-frame mounts feature rubber isolation pads to minimize vibration.
Fluid Capacities
The engine holds 1.75 quarts of oil, with SAE 30 weight recommended for all operating temperatures down to freezing and SAE 5W-20 recommended for operating below freezing. The hydraulic system holds 1.2 gallons of fluid. The fuel tank holds 4.5 gallons of gasoline.
Available Implements and Options
A category 0 three-point hitch can be added to the rear of the 318. A 2,000 rpm rear PTO was an option, which could be added before delivery or later in the field. Three mowing decks were offered with the 318 at 38, 46 and 50 inches in cutting width. A 54 inch front blade fits the 318. The blade was originally available with either manual or hydraulic angle control. Two different snow blowers fit the 318, one is a two-stage that clears 47 inches and the other is a single-stage with a clearing width of 46 inches. The model 44 front end loader can be added to the model 318. Two different tillers, two rear-mounted mowing decks and a vacuum-powered grass and leaf collection system were introduced at the same time as the 318, all requiring the optional rear PTO and three-point hitch features.