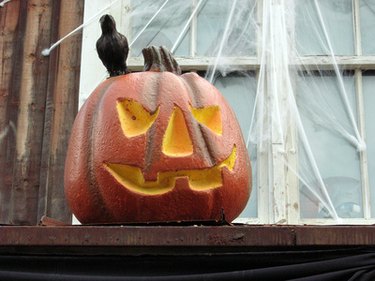 Whether you're attending a costume party or a Halloween event, consider an entertaining costume that will impress your friends. Choose a look that's distinct--such as "Scooby Doo" costume ideas--so you won't have to spend your evening explaining your outfit. Dress up as your favorite character, or get a group of five friends together so you can represent the whole Scooby gang.
Scooby Doo
For a simple, inexpensive Scooby Doo costume, pair a brown turtleneck with brown pants and brown mittens. Attach a brown tail to the pants. Create a hat and ears out of brown felt. Use fabric paint to add black spots to your clothing. Use cardboard and acrylic paint or markers to create Scooby Doo's signature "SD" badge. Attach the badge to a turquoise dog collar. Complete the look with brown face paint--don't forget to paint your nose black. Throughout the evening, use such phrases as "Ruh-roh!" and "Scooby Dooby Doo!"
Shaggy
Shaggy, the resident slacker, has an easy look to pull off. This costume requires a baggy green T-shirt and brown trousers. Style your hair in a shag, or wear a wig. Add a goatee--more like scraggly hairs--to your chin. Glue construction paper to a box of dog biscuits. Use markers to add the name "Scooby Snacks" to the front of the box. Carry your Scooby Snacks with you. Use such phrases as "Like, zoinks!" and "Scooby Doo, where are you?"
Velma
Velma's costume requires a pleated miniskirt in maroon, knee-high orange socks, a pair of maroon heels and an oversized orange turtleneck sweater. Wear your hair in a bob to match Velma's hairstyle. Add a pair of rectangular, black-framed glasses. Use such phrases as "Jinkies!" and "I've lost my glasses! I can't see without my glasses!"
Daphne
To portray Daphne, wear a long-sleeved purple mini dress. Add a lavender stripe to the bottom of the dress and another stripe just below your hips. Tie a neon green ascot around your neck. Put on a red or strawberry blond wig. Add a purple headband and heels to finish the look. Daphne often says "Jeepers!"
Fred
Dress as Fred in a pair of bright blue slacks. Layer a white long-sleeved shirt on top of a blue polo shirt. Tie an orange ascot around your neck. Wear beige dress shoes. If you don't have blond hair, wear a wig or use colored hair spray. Fred often says "Let's split up, gang" to the Mystery Inc. crew when they're looking for clues.