Things You'll Need
Brown T-shirt

Thread

Needle or sewing machine

White, long-sleeve T-shirt

Jeans

Red fabric

Cardboard

Elastic

Hot glue gun

Silver spray paint

Brown shoes

Toy gun

Cowboy hat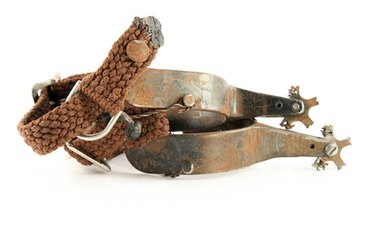 Cowboy, cowgirl and western outfits are popular Halloween costumes for men, women and children alike. As a result, these costumes are easily found online or in a store. However, store-bought costumes can be expensive. Fortunately, it's easy to make a homemade western costume, complete with spurs. The spurs may seem challenging to re-create, but they are actually the simplest part of the costume. With some basic sewing skills, anybody can make a homemade western costume and spurs.
Step 1
Turn a brown T-shirt inside out. Cut the sleeves and collar off the T-shirt and cut the shirt open in the front all the way down the middle. This will form the vest.
Step 2
Fold over the edges of the arm holes, collar and front opening of the vest 1/2 inch. Sew the folds in place, tucking the raw edges of fabric under the seam as you go.
Step 3
Pair the vest with a white, long-sleeve shirt and a pair of jeans.
Step 4
Cut out a triangular piece of red fabric that is 24 inches long at the base and 12 inches wide in the middle.
Step 5
Fold the edges of the triangle over 1/2 inch and sew the folds in place, tucking the raw edges under as you go. Tie this piece of fabric around your neck as a bandana.
Step 6
Cut a star shape out of a piece of cardboard. The star shape should be about 2 inches wide. Cut a piece of elastic that is just long enough to wrap around your ankle.
Step 7
Sew the ends of the elastic together, forming a ring. Hot glue one of the points of the cardboard star to the elastic ring, allowing the opposite point of the star to stick out away from the elastic.
Step 8
Spray paint the cardboard and elastic silver. Repeat this process for the other spur. Wear the spurs around your ankles. Pair the costume with a pair of brown shoes and a cowboy hat, and carry around a toy gun as a prop.